Prue Leith Accidentally Stabbed A Colleague In The Leg After Kitchen Fall

HuffPost UK
14/04/2019
Great British Bake Off judge Prue Leith once accidentally stabbed a colleague in the leg. 
The TV cook revealed she knifed a fellow chef after falling over while working in a busy kitchen. 
However, she initially feared she'd stabbed him somewhere much worse than his leg.
Speaking to the Guardian, Prue said: "I once thought I'd stabbed a fellow chef in the manhood.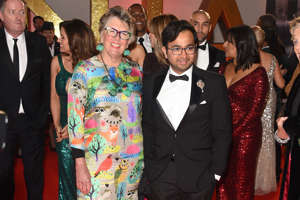 "I was very pregnant and quite unbalanced, and I slipped and fell with a knife in my hand and blood poured out of his upper thigh.
"The poor guy didn't want to take his trousers down in front of a woman, and giving a brandy at that time was probably the worst thing you can do."
Luckily for Prue, her colleague was very understanding about the situation, but she did end up having to give him some compensation when he was left unable to work.
She explained: "He was, in fact, very sweet about it, although I had to give him quite a hefty amount of money when he couldn't work for a while and then wanted to go back to Spain and open a cafe." 
Prue worked in kitchens and as a restaurateur for years before becoming a TV star. 
She found fame as a judge on BBC Two's The Great British Menu in 2005, before quitting in 2016 to replace Mary Berry on The Great British Bake Off when it moved to Channel 4.