Kate Hudson Comes Under Fire For Calling C-Sections 'Lazy'

ELLE
5 days ago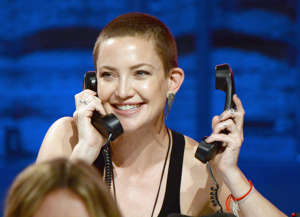 © catalyst Having never produced a human, nor given birth to one vaginally or via caesarean section, I can't speak from experience, but I'm pretty sure child birth is one of the most painful, arduous, and exhausting experiences a woman ever has to go through. So kudos to literally anyone that does.

But this might explain why Kate Hudson's comments about caesarean births have ruffled a few feathers, after she recently told Cosmopolitan that having a 'C-section' was one of the 'laziest' things she's ever done.
© Provided by Hearst Communications, Inc A cesarean section (or C-section), is an operation to deliver a baby through a cut made in the lower abdomen and womb, you can read more about it on the NHS website.
The procedure is described as a 'major operation that carries a number of risks' including blood clots, excessive bleeding, and infection, with one in four-five pregnant women in the UK having the operation due to medical complications, or out of choice.
A post shared by Kate Hudson (@katehudson) on Jul 22, 2017 at 8:35pm PDT
During a C-section, a 10-20cm cut is made across the lower stomach and lining of the womb, before the amniotic fluid is suctioned out through the opening and the foetus is pulled out. 

The whole process takes approximately 40-50 minutes, with the recovery time taking far longer than the delivery, and often resulting in three to four days in hospital post birth, as opposed to one to two after a vaginal birth.
Mothers who read Hudson's comments around the procedure have fired back at the actress calling them 'offensive' and 'ill-informed'.
Hey #KateHudson - please tell me which part of major abdominal surgery is "lazy"? The procedure? The heal time? The 9 months of work prior? pic.twitter.com/DJVmf1lmVL

- Tasha (@TashaMuise) September 11, 2017
#KateHudson or how after all medical intervention I was supposed to push a baby out of 1.5cm dilation!!! Seriously! #Fool

- Pauline (@Purpleness1706) September 12, 2017
Dear #KateHudson -My son & I would be dead if I didn't have a c-section.Keep your "lazy" comments to yourself, it's offensive & ill informed

- Cara Hammond (@cara_hammond) September 12, 2017
#katehudson Really on the C-section?! pic.twitter.com/ea2ozk3Rsa

- Chantelle Marquis (@kcmarquis) September 11, 2017
Dear #KateHudson

Having a C-Section is far from lazy, ok? pic.twitter.com/DcjmJbi6i0

- Mrs ™ (@SuchACoolChick) September 4, 2017
#KateHudson My son would be DEAD if it wasn't for my emer. C-section. Given my options-death or c-section, I guess I chose the "lazy" option

- Amy Richardson (@luv_amy_rich) September 12, 2017
#katehudson if I did not have a c-section, my son and I would have died. Even if you apologized, we would not accept it!

- narfnarf (@narfnarf328) September 11, 2017
Reading @Cosmopolitan#katehudson states having c-section as "laziest thing she's ever done" that's the only safe way to deliver for some

- Jamie Ukleya (@JammaLamin) September 6, 2017
Exactly!! How in the world is having your insides cut open & moved around to deliver your baby lazy?? #KateHudson is bum AF for sayin that. pic.twitter.com/VjnW9dLPRg

- Mrs ™ (@SuchACoolChick) September 6, 2017
Wow.#KateHudson said having a c-section was the laziest thing she has done.I must be #slothful 4 having an emergency c-section w/ my twins.

- Deniz Westphal (@dwestphal) September 13, 2017
#KateHudson Why are women who didn't like her comment are being called stupid? How is getting muscles cut and 10" of stitches easy/lazy?

- Angel Moore (@angelm3008) September 13, 2017
However, others have come to the star's defence. Firstly, of course, to say that Kate's comments were said in passing and an attempt to make a little joke at her own expense, rather than to comment on the experience of others. But also to point out that she may have been referring to the fact that her C-section wasn't for medical reasons, rather a lifestyle - a choice every woman is entitled to. 

#Katehudson, I think her comment has been misinterpreted ffs. Her C-section wasn't for medical reasons, it was a lifestyle choice.

- EmmaJaneR (@2820EJR) September 13, 2017
Why is everyone making #KateHudson answer to a question about them!!!! She's talking about HERSELF not all women!!

- Leah P (@Leahwig) September 13, 2017
Is no one allowed to have a personal opinion any more? Must every little thing causes some sort of offence? 1 mean come on 🙄 #KateHudson

- Nelloluvt (@nello1418) September 12, 2017
Surely #KateHudson wasn't referring to instances where it was a medical emergency. She refer to those that may choose out of convenience.

- JACKSON! (@jaklq) September 13, 2017
Most C-sections are not a choice hers was so get over yourself! Her opinion her choice. #respect#katehudson. #crazypeople

- Jim McCausland (@jimmc_69) September 11, 2017
The news comes weeks after a pregnant Chinese woman reportedly killed herself after being refused a caesarean section, prompting universal condemnation of the country's strict surgical laws.