Can We Learn Anything From The Strange, Watered-Down Politics Of Awards Ceremonies?

HuffPost UK
11/02/2019
Editor's note: The opinions in this article are the author's, as published by our content partner, and do not represent the views of MSN or Microsoft.
"Gay rights", they said. I was scrolling in the deep in Grammys and BAFTAs Twitter coverage when the video, the length of a third of a Vine, popped up, with a couple thousand likes. It was The Favourite stars Olivia Colman and Rachel Weisz, spliced together in the two-second clip, on camera, saying the two simple words for a fan who had asked them to.

Looking at the sheer number of frantic replies and thinking I'd missed the point, I pressed the replay button. "Gay rights". That was really it. It's not necessarily bold to say this isn't a radical sentiment – it's not "support LGBT+ asylum seekers", or "increase queer sex education in schools". It's not even"I support gay rights". It's just... gay rights. The compound noun. 
This is the world of film industry politics now – as fans, we're desperate to see the people we've grown up watching on screen speaking up on the issues we care about. After all, their films often tackle social issues head on, often things viewers have experienced. But with the rigid world of PR statements surrounding them, and the potential for huge, wild error, we will take whatever we can get.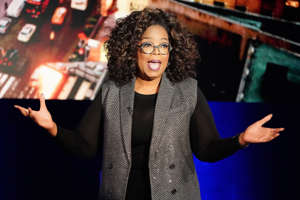 Ceremonies have a scattered political history, but 2018 arguably set a new tone. #MeToo saw stars drenched in black, Meryl Streep and Oprah making speeches on sexual harassment in the industry, and Aziz Ansari sporting a Time's Up pin. Since then, the pressure has been upped to say something of significance – and it's now near-compulsory. But without the safety in numbers that comes with a unified movement like in 2018, this year it broadly fails to deliver.
In the case of the BAFTAs, the fact that the Duke and Duchess of Cambridge were in the audience is what really gives the game away – this is not a political space. And the placating royal language of "deeply held differences" was replicated by the most political offering of the BAFTAs, in Alfonso Cuaron's message about "an age when fear and anger propose to divide us." It's purposely open to interpretation – whose fear? Whose anger? Who is being divided from who? Cuaron's message could potentially have run last year, the year before, and the year before that.
Meanwhile, the theme of the Grammys was women – which fits in an increasing turn towards feminist messages in our pop culture. But I couldn't help but see it as notable that Alicia Keys asked "who run the world?" and allowed the audience to actually say the bit that was at all about girls, while Camila Cabello's anti-Trump message wasn't anything more than an easter egg newspaper prop. The protest was also broadly silent. As much as your film or album may say, at the podium it is still a risk to really say anything at all, so we end up with speeches that deliver a broad sort-of message that pretty much everyone can agree on.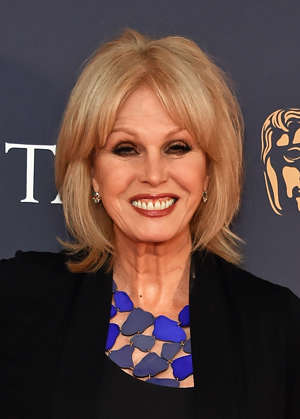 We can read quiet political symbolism not just into what's said at ceremonies, but who gets stage space, with Kevin Hart as an recent and obvious case. When Joanna Lumley was announced as the 2018 host of the BAFTAs, her being a well-off white woman was seen as a refreshing takeover from long-time host Stephen Fry – a well-off white man. And despite Sandra Oh declaring "I don't really think that [getting political] is for the hosts necessarily," her appointment as Golden Globes host this year was seen as a victory for Asian women in Hollywood. Almost like fan theories, any movie-goer interested in politics will have to do half of the legwork in extracting some meaning from who is chosen to host, and why. 
When we see social issues brought to the stage, that message may have unparalleled reach, but in appeasing a huge audience base and securing a soundbite top-line, it will likely sacrifice depth and nuance. But regardless of how watered-down awards season messages promise to be, that's not to say that we can't learn anything from them. If culture is a mirror that reflects society, there is something to be gleaned, and that is exactly what is seen as apolitical, or appropriate for anyone in the entertainment industry to actually say, on the record and out of character, and be praised for.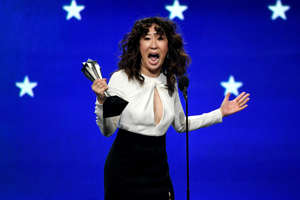 If you're looking for a temperature check on what vague political notions ancient establishments will allow stars to gesture towards and who they are trying to market at, you may certainly find it in institutions like the Academy, in a two-second soundbite, or better still, in the nominated pieces of work themselves. But if you're looking for groundbreaking takes that shake the table, perhaps save your time and look elsewhere.
Related: Over 100 of the hottest photos from this years Grammys [PopSugar]