First look at Catherine Tate's 'Nan' movie

Yahoo! Entertainment UK
5 days ago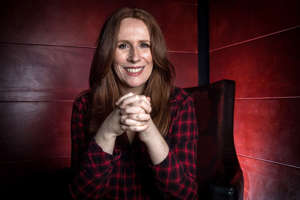 © Getty The Catherine Tate Show may have ended more than a decade ago, but here's the first look at the comedian's Nan movie.

© BBC Director Josie Rourke dropped a picture on Instagram as filming commenced on the feature-length project yesterday, called This Nan's Life.
One featured the clapperboard coming down on act one, scene one, while the second featured Rourke alongside Tate and Gavin & Stacey star Mathew Horne, who plays Nan's ever-patient grandson Jamie.
She also added that the cantankerous character reminded her of her own gran.

"I think I speak for loads of us when I say that my Gran's spirit lives in Catherine Tate's immortal Nan," she captioned.
© BBC "Unlike Catherine's Nan, Grandma Rourke proved mortal. But when Catherine plays Nan, I hear my own Gran who, towards the end of her life, discovered the word 'arsehole', and used it remorselessly.

"Gran refused any food that wasn't jam sandwiches, and only ever played cards for money. She won back off me the first pocket money she ever gave me.
© Provided by Oath Inc. (Credit: BBC) "I have loved working with Catherine over the years on stage, and it is a massive treat to put her Nan on film. Here's to her Nan, my Nan, all our Nans. Let's reclaim outrage from loathsome politicians and put it back where it belongs: with our Nans."
The foul-mouthed pensioner was among the first characters to emerge in Tate's The Catherine Tate Show, back in 2004.
© Provided by Oath Inc. LONDON, ENGLAND - APRIL 08: Host Catherine Tate speaks on stage during The Olivier Awards with Mastercard at Royal Albert Hall on April 8, 2018 in London, England. (Photo by Jeff Spicer/Getty Images) She was a staple during all three series of the sketch show, before becoming the star of her own spin-off episode in 2009, which spawned a comeback in 2014, and a two-part Christmas special in 2015.
The IT Crowd's Katherine Parkinson will also star, though there's no release date as yet confirmed.
Gallery: British humour: The UK's funniest comedians (StarsInsider)
MSN UK is committed to Empowering the Planet and taking urgent action to protect our environment. We're supporting Friends of the Earth to help solve the climate crisis - please give generously here or find out more about our campaign here.