From Heathers to Thoroughbreds: Why Hollywood loves a teen sociopath

The Independent
16/04/2018
© Provided by The Independent Early on in Corey Finley's startling debut Thoroughbreds, Amanda (Olivia Cooke) admits to her estranged childhood friend, Lily (Anya Taylor-Joy), that: "I don't have feelings, ever. Joy, guilt - I really don't have any of those."
In fact, as soon becomes clear, she's spent her entire life simply mimicking the behaviours of those around her, carting out an acting technique or two during moments of crisis so that she can convincingly produce a stream of tears to a waiting audience.
Doctors swing between various diagnoses, between medications; in truth, Amanda may be less the realistic medical case, more an addition to Hollywood's long obsession with a symbolic kind of teen sociopathy.
The teen sociopath, on the silver screen, is an object of almost perverse attraction: the extreme of ironic detachment, placidly cool and always in control, even when that leads to an inevitable monstrosity of character.
Watch Thoroughbreds trailer 2 (Provider: My Movies)
When the experience of being a teenager can feel like an onslaught of too many emotions - sexual discovery, the existential angst of figuring out who you want to be, where you fit socially into the world - there's something almost enviable about the thought of having none. It's the irresistible antithetical.
It's not that these characters are aspirational to any degree, but that they're so exaggerated in their detachment that it opens the door for a teenager to indulge in their own personal frustrations.
The world is structured to punish those who feel too much, with teens especially weighed down by the guilt of their own emotions, but what of the opposite? The likes of Heathers or Cruel Intentions pursue that dark desire, only to curtly remind audiences it's all bound to end badly.
The exploratory nature of the trope is particularly illuminated by the fact the teen psychopath is so often paired directly with a character who is near-consumed by emotion. In Thoroughbreds, Lily's initial attraction to Amanda is similarly borne out of curiosity.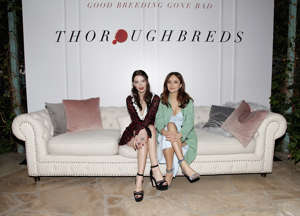 © Getty Anya Taylor-Joy and Olivia Cooke attend the premiere of 'Thoroughbreds after party at Sunset Marquis Hotel on February 28, 2018 in West Hollywood, California. Ejected from her previous school for plagiarism, she sees Amanda as the potential escape out of the reputation for instability that's convinced her parents to enrol her in a school for girls with behavioural issues. When Amanda simply suggests they kill her sadistic stepfather, the end of her most pressing emotional pain seems offered up on a plate.
Netflix recently released its eight-part series The End of the F**king World, which also sees an emotionally-overwhelmed character (Jessica Barden's Alyssa, who we first see lying in the grass, feeling the world has become too much for her) find an attraction in a character who feels nothing, here being Alex Lawther's self-diagnosed psychopath, James.
In Heathers, Veronica Sawyer (Winona Ryder) finds herself torn between two worlds: the Heathers, who actively seek sociopathy in an attempt to maintain their reign over the school, and JD, the genuine, real-deal, suburban sociopath. The latter, unsurprisingly, proves far more dangerous despite its promise of authenticity.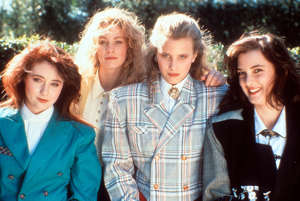 © Getty From left to right, Shannen Doherty, Lisanne Falk, Kim Walker and Winona Ryder on set of the film 'Heathers', 1988. The Heathers, meanwhile, play-act at sociopathy in the pursuit of perfect control over their own lives, and the milieu around them. After all, they're the most popular girls in school, and the smallest hint of emotional vulnerability risks someone else coming along to snatch the crown.
Yet, on a deeper level, these are girls who have suffered greatly. Whether victims of bulimia or sexual abuse at the hands of the school jocks, the Heathers try and force those traumas to happen cooly and coldly in the wings; all that's seen are those masks of total indifference.
As Heather Chandler (Kim Walker) tells Veronica: "Real life sucks losers dry. You want to f**k with the Eagles, you've got to learn how to fly."
Sociopathy becoming part of the pursuit for power is nothing but the ugly product of a capitalistic culture which defines emotional interference as a barrier to success, a sign of exploitable weakness, whether in high school corridors or business boardrooms.
© Getty American actors Christian Slater and Winona Ryder pose while holding hands on the red carpet, as they attend the Academy Awards at the Shrine Auditorium, Los Angeles, California. That year the two starred in the film, 'Heathers.' Is it mere coincidence that a recent study found that roughly one in five CEOs had clinically significant levels of psychopathic traits? When Thoroughbreds' Amanda shrugs off her future, suggesting she'll simply "skip college and Steve Jobs my way through life", it's only acknowledging how society has structured her own view of herself.
Power and sex, of course, have been bedfellows since the dawn of history, and Hollywood finds equally irresistible the siren call of a manipulator of desire. For the teen film, that comes in no more a recognisable form than Cruel Intentions, adapting the historical sociopathy of Pierre Choderlos de Laclos' Les Liaisons dangereuses.
Kathryn Merteuil (Sarah Michelle Gellar)'s own obsession with control may override actual pleasure, yet, much like the original Merteuil, her emotional detachment frees her also from society's backwards sense of shame when it comes to sex.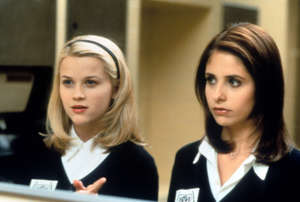 She is, in her own way, liberated: to sleep with whoever she like, to embrace sexual fluidity however she likes, as in her famous make out session with Cecile Caldwell (Selma Blair).
Nothing in our teenage years may be quite as messy as matters of sex, and films like Cruel Intentions allow that internal conflict to be played out in full. Kathryn's self-liberation may slip almost towards anti-hero, but the manipulator at the centre of Swimfan, Madison Bell (Erika Christensen), is strictly villainous.
Luring Ben (Jesse Bradford) away from his oh-so-innocent girlfriend (Shiri Appleby), Madison begs him to tell her he loves her, even if he doesn't mean it. Unsurprisingly, it's later weaponised against him.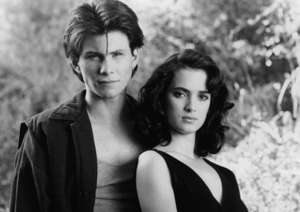 © Getty Christian Slater and Winona Ryder standing together in a scene from the film 'Heathers', 1988. When he finally rejects her, the loss of control provokes a vicious reaction: she frames the elite swimmer first as a steroid user, then as an outright murderer. Only by destroying him first can she attempt to regain power over him.
However, it's hard to divorce the struggle for social and sexual dominance from the context of privilege - and the Hollywood teen sociopath is almost overwhelmingly wealthy and white. Those are the conditions in which emotional detachment seems most easily pursuable; when privilege becomes a blanketing, isolating force capable of completely isolating an individual from reality.
It gives things less of a sense of consequence: to the point that Thoroughbreds' Lily can actually contemplate offing her stepfather, or Cruel Intentions' Kathryn can take advantage of Mrs. Caldwell's own racism to ruin Cecile's chances of romance with her black music teacher Ronald (Sean Patrick Thomas).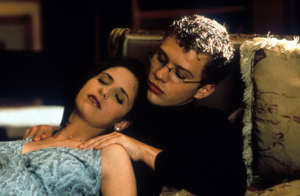 © Getty Sarah Michelle Gellar passed out on top of Ryan Phillippe in a scene from the film 'Cruel Intentions', 1999. To act without a sense of consequence is a trademark of the sociopath, but a trademark of privilege as well.
Of course, Hollywood's sociopathy obsession shouldn't be removed from its wider context - not when the adult sociopath is a constant fallback for horror villain - but there's a certain added agency when it comes to the teen film.
Certainly, they're not characters pursued for psychological or emotional authenticity; there's a marked difference with Lisa (Angelina Jolie) from Girl, Interrupted or Kevin Katchadourian (Ezra Miller) from We Need to Talk About Kevin.
Films like Thoroughbreds or Heathers treat its sociopaths as cultural, symbolic products of society; the monsters created out of a society that values power above all, empathy as a form of weakness.
Thoroughbreds is out now. 
Related: The best teen scream films (Provider: Yardbarker)
For more of the most popular News, Sport, Lifestyle & Entertainment on MSN, Follow us on Facebook, and on Twitter