Jennifer Lawrence Breaks Silence Over 'Passengers' Backlash

Huffington Post UK
10/08/2017
© Provided by Huffington Post Chris and Jennifer in 'Passengers' Jennifer Lawrence has admitted there are things she would do different, with regards to her controversial film, 'Passengers'.

The sci-fi romance was largely panned upon its release last year, with some feminist critics comparing its major storyline - which saw Chris Pratt's character waking Jennifer's up from hypersleep as he was alone - to an abusive relationship.
In a new interview with Vogue, the Oscar-winning star has opened up about the backlash for the first time, admitting that she's "disappointed in herself" over the film.
She explained: " I'm disappointed in myself that I didn't spot it. I thought the script was beautiful — it was this tainted, complicated love story."
However, she did defend 'Passengers', insisting: "It definitely wasn't a failure. I'm not embarrassed by it by any means. There was just stuff that I wished I'd looked into deeper before jumping on."
Earlier this year, co-star Chris Pratt said of the controversy: "[The backlash] was definitely a lesson… I'll be curious to see if it holds up — the criticism and the movie."
He also said he was standing by the film, adding: " I'm proud of how the movie turned out and it did just fine to make money back for the studio… it is what it is and I'm proud of it."
During her Vogue interview - which accompanied a new cover photo-shoot which saw her in an array of retro scenarios - Jennifer also reflected on her nude photo hack three years later.
Read her full interview in the September issue of Vogue.
Gallery: Movies that made us believe in friendship (provided by GES)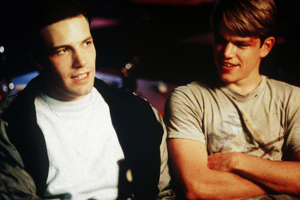 Movies that make us believe in friendship