Solo: A Star Wars Story director Ron Howard explains why he took on troubled project

The Independent
12/02/2018
© Provided by Independent Digital News & Media Limited image While the first trailer for may have appeased some fans, others remained worried the movie's troubled production may affect the final product.
One of the many questions people have asked concerns why new director Ron Howard – who took over from Phil Lord and Chris Miller – took on the seemingly difficult project.
Speaking to , Howard began by praising the former directing duo, calling them "incredibly talented guys", before explaining the circumstances that led to himself taking over.
"When I learned that this change was happening, it just came in a moment where I was working on lots of new projects for Imagine, and I had not planned to direct anything last year," he said.
© Provided by Independent Digital News & Media Limited "So then this came my way, and I was talking to Kathy [Kathleen Kennedy, head of LucasFilm], and the now tragically late Alli Shearmur [producer who passed away earlier this year], an old friend. I was reluctant, but I also began to feel that I could help."
Discussing the director change, he added: "It's disappointing that any company ever feels like they have to make a change like that.
"It's rough on everybody and disappointing for everybody, and I've just tried to come in and — of course, Phil and Chris's fingerprints are all over the movie, given how much they put into it and the time they put into it. I hope fans won't even think about how the movie was made. They should just lose themselves in it."
Questioned further about what percentage of movie would be theirs compared to his, Howard answered: "As Han says, 'Don't tell me the percentages.' Never tell me the percentages!"
"I don't really want to explain it," he continued. "I don't really want to be specific about that because, again, I don't even want that to matter to fans," Howard says. "I could understand why you'd ask, and some might even be curious, but look, everybody who has been involved in this has done nothing but love what this movie could be, and that's been the vibe around it. I think audiences are gonna feel that love and excitement."
Meanwhile, the first trailer for Solo: A Star Wars reaches cinemas 25 May.
Star Wars: A Solo Story: What we know so far (GES)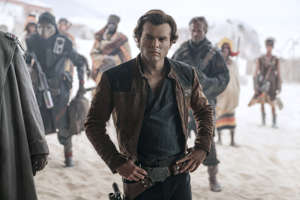 For more of the most popular News, Sport, Lifestyle & Entertainment on MSN, Follow us on Facebook, and on Twitter