The Oscars is failing: From the #metoo legacy to Kevin Hart stepping down - the Academy is in trouble

Evening Standard
23/01/2019
The Academy Awards are not winning any prizes them-selves at the moment. The Oscars are in trouble. There's not even going to be an MC for the big show on February 24, to replace Kevin Hart, who quit in December after past homophobic tweets resurfaced. No satisfactory host has been found for many years now, let alone a consistent face (back in the day, Bob Hope presented for 19 years!)
And the all-important viewing figures are slumping year by year. In 2014, when Ellen DeGeneres presented, they stood at 43.74 million. Last year, with Jimmy Kimmel in charge, they were down to 26.5 million, an all-time low.
There have been a series of public humiliations, including of course the whole #MeToo shaming, the Oscars being at the heart of Harvey Weinstein's manoeuvres. There was the envelope fumble in 2017 that led to La La Land apparently winning Best Picture before it went to Moonlight, a slip-up that made the whole ceremony ridiculous. There was that botched scheme last year to launch a new category for "achievement in popular film", an embarrassed response to the success of Black Panther, soon abandoned.
_______________________________________
You may also like:
Can Green Book overcome Oscar bias? [Gold Derby]
Oscars nominations prove change is coming [The Independent]
Oscars turn back towards the money [The Washington Post]
_______________________________________
Other troubles have proved more persistently damaging. In 2012 the LA Times conducted an investigation into the demographics of the 5,765 voting academy members, which revealed that they were 94 per cent Caucasian and 77 per cent male with a median age of 62. Only 14 per cent of the membership were under 50, only two per cent black and fewer than that Latino.
In 2015 the #OscarsSoWhite row exploded on Twitter — trending again in 2016 when all 20 actors nominated were white. The academy's response has been to actively recruit more women, people of colour and foreign film-makers, without, however, getting rid of the old guard. There are now 7,902 voting members, 2,406 more than three years ago — 1,200 of them now being people of colour.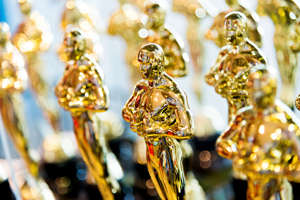 A couple of weeks ago, a punchy article in trade journal The Hollywood Report argued that "there are now effectively two different academies voting for the Oscars. The old academy is studio- and Hollywood-centric; it's predominantly male and white and middle-aged or older. The new academy is indie- and internationally-oriented; it's made up of just as many women as men, with a healthy number of non-Caucasians."
And their attitudes conflict most when it comes to Netflix and the other streaming services. "The old academy loathes Netflix for disrupting the traditional exhibition business and blurring the lines between TV/streaming and theatrical releases. The new academy couldn't care less, so long as someone's financing decent films."
So which of these two academies will dominate? In the long run, the answer is obvious. And this year looks like a tipping point.
So far Netflix has, despite its huge budgets, won precious little at the Oscars, taking home only two documentary prizes (including doc-umentary short for The White Helmets in 2017). Amazon has done only a little better, having backed Manchester by the Sea and Asghar Farhadi's The Salesman.
But yesterday Netflix's Roma scored 10 nominations, including for Best Picture. That's a game-changer.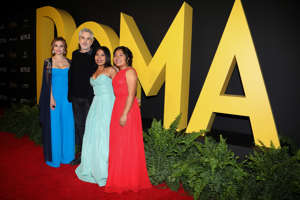 Dropped from the line-up at Cannes Film Festival last spring because it did not meet Cannes's strict theatrical release criteria, Roma was snapped up by Venice in the autumn and won the top prize there, the Golden Lion, awarded the previous year to The Shape of Water, which went on to win the Best Picture Oscar.
Can Roma do the same? It will be a double first if so, since although foreign- language films have been nominated for overall Best Picture before, none has ever won.
So the fate of Roma looks like the key decision when the prizes are awarded — which is the only part of the process that ultimately matters, the only thing that you have the smallest hope of remembering a few months later. Then this diverse set of nominations will have to be crunched, one way or the other.
At this stage the shortlists are capacious enough to reflect the interests of both the old and the new academies. There are old-fashioned major studio dramas such as A Star is Born, Green Book, Incredibles 2 and Black Panther, and smaller, artier contenders like Roma, If Beale Street Could Talk and The Favourite.
The Favourite's success — joint top scorer in the nominations — is another sign of how much the academy's tastes are changing. Its director, Yorgos Lanthimos, received just a single, screenwriting, nomination for his possibly even better film The Lobster, also starring Rachel Weisz and Olivia Colman, in 2015.
Not all academy members are happy. Last year producer Bill Mechanic (whose credits include Hacksaw Ridge) resigned from the board of governors, criticising the diversity policies and saying "over the past decade we have nominated so many smaller independent films that the Oscars feel like they should be handed out in a tent".
Roma, about the director Alfonso Cuarón's childhood in Mexico City in the Seventies — filmed in black and white, with a little or previously entirely unknown cast who do not act at all theatrically, speaking Spanish and Mixtec — might seem one of the most improbable films to lead the nominations ever.
Yet Roma is quite clearly the best film of the year. Nobody wants to hear this at this point in the awards season, when every impulse is to cheer the cornucopia of delights lined up for us — but this has not been a strong year for film. Hands up: I rated Roma as the only five-star film I saw all year. A Star is Born is a thumper: Lady Gaga nails it but it's too long and loses its momentum. BlacKkKlans-man is Spike Lee's best film for years but is too much played for laughs before its serious turn. Pawel Pawlikowski's Cold War is not the equal of his Oscar-winning Ida, requiring pre-emptive belief in amour fou. Barry Jenkins's If Beale Street Could Talk is tender and flowing but pious in a way Moonlight was not.
Other films nominated this year are actually poor or objectionable. Bohemian Rhapsody may be the highest grossing musical biography of all time ($802 million on a $50 million budget) but save for Rami Malek's amazing impersonation of Freddie Mercury it's an absolute clunker, with a dire script compromised by the producers' de-cision to fit Mercury's raunchy life into a PG rating. It works, of course, as a nasty great earworm.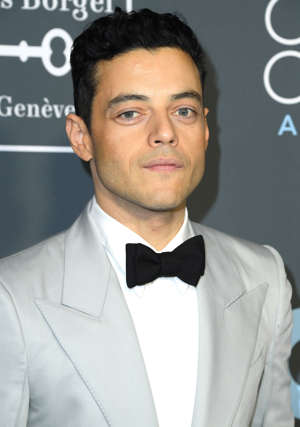 Green Book, a feelgood buddy movie set in the early Sixties, is an extraordinary act of racial patronage, and has been severely criticised by the subject's family: Mahershala Ali, who plays the lead, responded: "if I have offended you, I am so, so terribly sorry — I did the best I could with the material I had."
Vice — despite Christian Bale's in-credible physical transformation and poised performance — is a hectoring, contemptuous and smug piece of moviemaking, berating its villain Dick Cheney relentlessly.
And that leaves Black Panther, which has both earned $1.3 billion worldwide and scored a near-perfect 97 per cent on Rotten Tomatoes, having been almost universally applauded by the reviewers. Now it has become the first superhero film to be nominated for Best Picture — Christopher Nolan's The Dark Knight having notoriously failed to achieve that in 2008.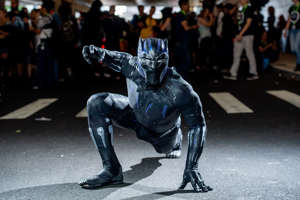 Black Panther is so important for reasons of identity and inclusiveness that it can only be impertinent to criticise it (black controversialist Armond White attempted it in an essay called Black Panther's Circle of Hype in the National Review).
It is a cultural milestone and the academy would have found itself in possibly terminal trouble if it had failed to recognise that. For the academy, like every other form of reception, judgment and establishment in the arts pretending to such a name, is now itself radically challenged by questions of identity and representation.
As for those collapsing audiences and missing comperes, the simplest solution might be for them to sell up to, or at least form partnerships with, investors who can offer better management, bigger audiences, new approaches. Netflix, say. Or Amazon.
Related: Black cinema nabs major nominations at the Oscars [StarsInsider]