Led Zeppelin Documentary Heading to Cannes Market

Billboard
08/05/2019
Turn it up to 11. A new documentary on legendary rock band Led Zeppelin is heading to the Cannes market. Bernard MacMahon, the director of the Emmy-nominated music documentary series American Epic, is helming the as-yet-untitled doc, which will feature new interviews with band members Jimmy Page, Robert Plant, and John Paul Jones, as well as rare archival interviews with the late John Bonham.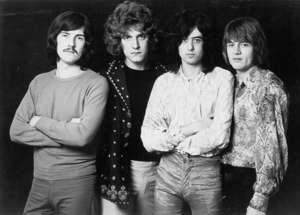 © Getty 1968: Rock band 'Led Zeppelin' poses for a portrait in 1968. (L-R) John Bonham, Robert Plant, Jimmy Page, John Paul Jones. (P0hoto by Michael Ochs Archives/Getty Images)
Currently in post-production, the documentary is billed as the "definitive telling of the birth of the world's biggest-selling rock band" and will be told solely from the band's perspective, with never-before seen archive film footage and photographs and state-of-the-art audio transfers of the band's music.

Both Page and Plant said watching American Epic, which traces the roots of American recorded music of the Roaring Twenties, convinced them to sign on to MacMahon's film. "When I saw everything Bernard had done both visually and sonically on the remarkable achievement that is American Epic, I knew he would be qualified to tell our story," Page said in a statement.
Watch: Jimmy Page on thinking past his musical limitations [Associated Press]
"The time was right for us to tell our own story for the first time in our own words," added Jones. "I think that this film will really bring this story to life." The team behind 
American Epic
 is on board for the Led Zeppelin doc, including writer and producer Allison McGourty, editor Dan Gitlin and sound supervisor Nicholas Bergh. McGourty, MacMahon, Duke Erikson and Ged Doherty are producing the film, with Peter Saraf and Marc Turtletaub as executive producers.
CAA is handling U.S. rights to the documentary, and Altitude is selling the film internationally.
MSN UK are Empowering Happiness for mental health awareness month. Find out more about our campaign and the charities working to stop people falling into crisis here.
Gallery: Led Zeppelin Live - a vivid photo book of the group at its concert peak [Variety]