Wiley labels Ed Sheeran a 'culture vulture'

BANG Showbiz
25/08/2019
Wiley has accused Ed Sheeran of being a "culture vulture".
The 40-year-old MC has labelled Ed a clout chaser, saying the chart-topping pop star has befriended certain people within the grime scene in order to gain popularity.
Wiley - who is widely known as the Godfather of Grime - initially said: "I'm sick of people using grime to look good for two minutes. (sic)"
But, Stormzy - who has worked with Ed on the track 'Take Me Back To London' - defended his showbiz pal.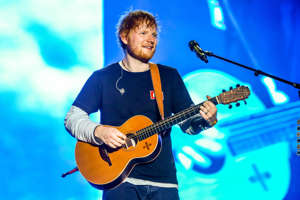 © Getty SZIGET FESTIVAL, BUDAPEST, HUNGARY - 2019/08/07: Edward Christopher Sheeran, English singer, songwriter, guitarist, record producer, and actor, performs during the first day of Sziget Festival in Budapest. His concert is the biggest sold out in the whole history of this festival. (Photo by Luigi Rizzo/Pacific Press/LightRocket via Getty Images) He wrote on Twitter: "Wiley you know Ed been doing this from early, been a real one from early, can't question that, you know I love you and respect you brother but nah don't do that. (sic)" 

However, Wiley refused to back down from his initial comments, posting a laughing emoji and writing: "shall I get my guitar and foot pedal out? (sic)"
The grime star - who previously worked with Ed on the pop star's 'No. 5 Collaborations Project' in 2011 - added: "Anyone who uses us and our sounds are culture vultures... I'm getting my guitar and foot pedal out and I don't wanna hear nobody moaning about nothing. (sic)"
Wiley previously claimed that grime music has been "watered down" since it first emerged as a credible genre.
Watch: Ed Sheeran dominates charts (international Business Times)
"England is built on pop music, that's why the show was called 'Top of the Pops'. It's a strong pop market."
Gallery: From the Dixie Chicks to Ed Sheeran - all of the artists Taylor Swift has collaborated with (People)
Explore the issues faced by the UK's most vulnerable children and young people this summer and discover what you can do to help.
(