Man From U.N.C.L.E., The

Empire
11/08/2015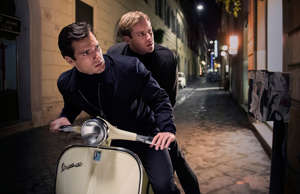 Plot
At the height of the Cold War, the CIA's Napoleon Solo (Cavill) and KGB's Ilya Kuryakin (Hammer) must work together against a fascist plot.
Review
They say that if you can remember the 1960s, you weren't really there. Guy Ritchie (born 1968) presumably does not, but in his case that's an advantage. His imagined 1963 is impossibly cool and all that period glitz gives his U.N.C.L.E. an appeal of its own in a summer crowded with huge scale and bombastic action.
Functioning like a prequel to the classic Robert Vaughn-David McCallum TV series except with better-muscled stars, this film opens with a classic espionage trope: a CIA agent must rescue the family member of a kidnapped scientist from East Berlin. But when Henry Cavill's Napoleon Solo goes in to extract nuclear scientist's daughter Gaby Teller (Alicia Vikander), he comes up against the supernaturally determined Ilya Kuryakin (Armie Hammer), whose mission is to secure her for the KGB. Their ensuing battle of brain, brawn, cars and wits is entirely delightful, and if the rest of the film had been on that level, this would be a classic.
Sadly, things get bogged down somewhat after the two team up to trace Gaby's father and prevent a neo-fascist group from building a nuclear weapon. Further action scenes are few and far between, which might be acceptable if they weren't also sometimes muddy in either objective or execution. The film relies instead on Solo's steady flow of witticisms, Kuryakin's well-timed grimaces and Gaby's defiance of both. Hammer's intensity plays perfectly against Cavill's insouciant, insolent style. Vikander is a fiery addition to the mix, not at all intimidated by either agent.
A thick vein of comedy runs the gamut from overly-familiar hotel farce to pleasantly subversive arguments about women's fashion. But the bad guys, led by Elizabeth Debicki's icy Victoria Vinciguerra, barely get a word in, and feel too abstract to pose a real threat. But, by the time Hugh Grant turns up to run rings around both leads, Ritchie and his cast have established a funny, bright world that feels quite unlike any of our other gritty, handheld spy franchises. Hopefully if U.N.C.L.E. returns, it will bring some structure to support its fizzy cool.
Verdict
Cavill and Hammer are made for each other, but the film can't always find the pyrotechnics to match their chemistry.