Simpsons lawsuit by Goodfellas actor Frank Sivero dismissed

The Independent
14/02/2018
Frank Sivero's battle with The Simpsons has finally come to an end.
The actor — best known for Goodfellas and Godfather Part II — initially sued Fox Television in 2014, claiming the animated show had based the character Louise, a member of Fat Tony's crew, "on his own personality".
According to the lawsuit, Sivero lived in an apartment complex in California next door to the writers of The Simpsons at the time he was preparing for Goodfellas.
"They knew he was developing the character he was to play in the movie Goodfellas," stated the lawsuit, as reported in 2014. "In fact, they were aware the entire character of 'Frankie Carbone' was created and developed by Sivero, who based this character on his own personality."
Following a legal battle where Fox claimed the actor was impeding free speech, a Los Angeles judge rejected Sivero's lawsuit and his $250 million demand.

However, Sivero didn't stop there. The 66-year-old attempted to renew the legal fight again, something a Californian appeals court has rejected.
"In the present case, we agree with the trial court's conclusion that Fox's use of Sivero's likeness in the television shows, movie, and a video game is transformative and therefore is protected by the First Amendment," justice Kerry Bensinger said, according to THR.
"Even if Louie resembles Sivero, the Louie character contains significant transformative content other than Sivero's likeness. Louie is not a literal likeness of Sivero as were the images of The Three Stooges in Comedy III and the depictions of rock band members in No Doubt, and college football players in NCAA.
"Instead, Louie is a cartoon character with yellow skin, a large overbite, no chin, and no eyebrows. Louie has a distinctive high-pitched voice which, as the trial court pointed out, has 'no points of resemblance to [Sivero].'"
Besinger then pointed to Sivero's own comments about being 'Simpsonized', adding how the character parodies Hollywood mobsters and that Louis does "not a satisfactory substitute for a conventional depiction of Sivero. And as a result, Louie does not greatly threaten Sivero's right of publicity."
21 movie stars whose TV shows missed the cut (GES)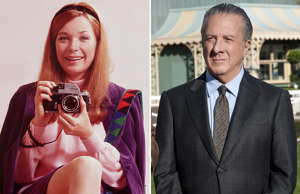 For more of the most popular News, Sport, Lifestyle & Entertainment on MSN, Follow us on Facebook, and on Twitter