Costner's Draft Day wins new rating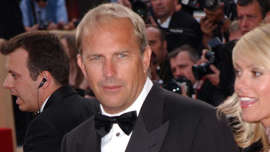 Kevin Costner's new film Draft Day has won an appeal to have its rating reduced from R to PG-13 in the US.
The film about the world of American football, directed by Ghostbusters' Ivan Reitman, was initially given an R rating for "brief strong language" by the Motion Picture Association of America (MPAA).
Unwilling to remove the bad language from the movie about the tense and testosterone-fuelled sport, Reitman and Lionsgate successfully appealed the rating, Deadline reported.
The film, about a manager, played by Kevin, who tries to save his city team by trading for the number one pick, is now rated PG-13 rating for "brief strong language and sexual references".
Lionsgate and the MPAA declined to provide details on the appeal.
In October last year the Weinstein Company got Bafta nominated film Philomena downgraded from an R to PG-13.