Britain's Got Talent: Ant And Dec Use Golden Buzzer For Teenage Dancer Akshat Singh

HuffPost UK
21/04/2019
A teenager from Mumbai has become the third act on Britain's Got Talent to go straight through to the live shows, after earning a golden buzzer from Ant and Dec.
Akshat Singh impressed the show's presenters with his energetic dance routine, which saw him do the splits and pull off some breakdance-style moves.
Arriving on stage, the 13-year-old said: "I have two mottos in my life – to make everyone happy, and to show everyone that nothing is impossible in their life."
© Getty LONDON, ENGLAND - MAY 14: Anthony McPartlin (L) and Declan Donnelly aka Ant and Dec attend the Virgin TV BAFTA Television Awards at The Royal Festival Hall on May 14, 2017 in London, England. (Photo by Jeff Spicer/Getty Images) Following his bold routine, which saw him dance to Starships by Nicki Minaj, he received a standing ovation from the audience at the London Palladium.
Watching from the side of the stage, hosts Ant and Dec were visibly excited.
Got the golden buzzer and I m in the semifinals of Britain got talent I got my best birthday gift https://t.co/9hhjaKJbsE

— Akshat Singh (@akshatdhamaka) 21 April 2019
Head judge Simon Cowell said: "I was not expecting that. A lot of kids are going to watch you and absolutely love what you do because you're fun, you've got great personality.
"This is your moment."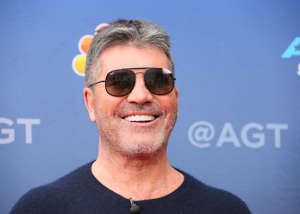 © Getty PASADENA, CA - MARCH 11: Simon Cowell attends NBC's 'America's Got Talent' Season 14 Kick-Off on March 11, 2019 in Pasadena, California. (Photo by JB Lacroix/WireImage) Judge David Walliams said: "I wish I was 13 and watching you up there on the stage, you would have made me feel like I could achieve absolutely anything."
Before the judges were able to decide whether Akshat should go through to the next round, Ant and Dec ran towards the judging panel and pressed the golden buzzer, guaranteeing him a place in the live semi-finals.
Overwhelmed with joy, Akshat said that he just "wants to be happy and make others happy".
Gallery: All 12 Britain's Got Talent judges ranked [Digital Spy UK]