Game of Thrones star Nikolaj Coster-Waldau says Jaime and Cersei Lannister's incest is 'true love'

Evening Standard
14/03/2019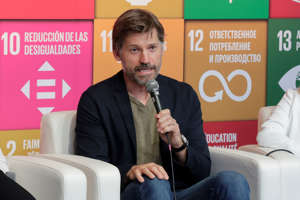 Game of Thrones actor Nikolaj Coster-Waldau has defended his character's on-screen incestuous romance with Lena Headey's Cersei Lannister, hailing it "true love."
On the show, Coster-Waldau plays Jamie Lannister, brother to Cersei.
The 48-year-old actor has backed the brother-sister relationship, branding it one of the "few true love stories" on the show.
Speaking to Men's Health, Coster-Waldau said: "I think most people have at least been attracted to someone you shouldn't be.
"Not your sister, but someone you really shouldn't fall in love with. Like your best friend's girlfriend. It's one of the few true love stories in Game Of Thrones – Jaime is dedicated to this woman."
The show is set to come to an end next month, with six final episodes concluding the eight-season drama.
Conleth Hill, who plays Lord Varys, said it's not possible to "please everyone" with the build-up the show has had.
He told the Radio Times: "I don't know if you can please everyone. Not everyone's going to be pleased, because it's such a big show, and it's divisive.
"[The ending] was all quite numbing. For us, because it was the end of 10 years."
Isaac Hempstead Wright, who plays Bran Stark, hinted that some of the characters "might die" in a dramatic ending.
The show's hero Kit Harington, who plays Jon Snow, also weighed in on the finale, admitting he is "not happy but very satisfied" with the way the show has ended.
Speaking on the Zoe Ball Breakfast Show earlier this year, Harington said that he hopes Game of Thrones will "break boundaries".
Game Of Thrones will return for a final series on April 15, simulcasting with the US at 2am. Episodes will be repeated at 9pm on Sky Atlantic.
Related: Game of Thrones: Ranking the Characters From Least to Most Likely to Die in Season 8 [POPSUGAR]