'It Can Be Exhausting Trying To Make It In LA': What's Next For Jodie Comer - The Liverpudlian Who Has Hollywood Firmly At Her Feet?

Grazia
16/04/2019
As the Russian assassin Villanelle in Killing Eve, Jodie Comer is the perfect blend of ruthless, endearingly damaged, conniving and homicidal. Her performance in the first series of the genre-defying BBC America drama, which was written by Phoebe Waller-Bridge, was so astonishing that it quickly catapulted Jodie, 26, to bonafide global superstar status.
Last week, the first episode of the second series aired in the US to record viewing figures – yet further proof that Jodie and her co-star Sandra Oh are now two of the most talked-about women in television. Taking the US by storm is no mean feat, but in the past week, the entirely__ un-Villanelle-esque Jodie,__ who was born in Liverpool, was profiled in the New York Times, appeared on Ellen DeGeneres' talk show and was the guest of honour at a special cocktail reception in Los Angeles.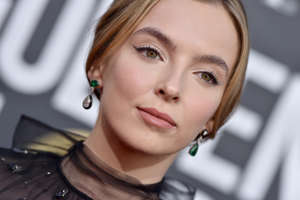 Jodie says that after years of getting less high-profile parts, like her supporting slot in BBC One drama Doctor Foster and her role in BBC Three drama Thirteen, she is enjoying her new-found star power. 'It's nice that people want to meet me and have a conversation with me now,' the actor told Grazia. 'It can be exhausting trying to make a go of it in LA. Killing Eve has changed everything – people know who I am and have an idea of what I can do before I step into a meeting.'
But while she might be enjoying the new-found attention and career opportunities, by nature Jodie insists she's still 'much more at home with my mates, just getting on with things'. It's true that the Hollywood life Jodie's been living for the past few weeks is far from her at-home reality – she still lives with her parents in Liverpool. 'Jodie is away shooting so much that she prefers to keep her base at her parents' house for now, so when she comes back she gets to spend time with her family rather than living alone,' says a friend.
Watch: Jodie Comer Can't Keep Track of How Many People She's Murdered on Killing Eve
'This has been a completely mad time for Jodie. At one point, she went seven months without working and getting turned down at auditions. She was worried she wouldn't book another part again, so to enjoy such huge success with Killing Eve is a dream come true.' The series has definitely opened some serious doors. Shortly before Killing Eve aired in the US, Jodie signed with the famous William Morris management agency in Los Angeles. 'They have made a huge push for her to find the right kind of US work. Focus was on film and only very prestigious TV mini-series,' says a source close to the agency. Jodie's next project is Free Guy, a film with Ryan Reynolds, which they shot last year, and later this year she'll start shooting Murder On The Nile with Gal Gadot and Armie Hammer.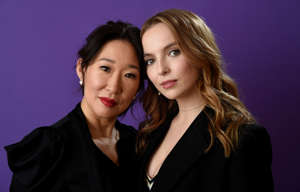 Don't expect any of this to change her, though. Jodie has said that she doesn't want to get 'caught up' in being obsessed with her social media presence or going to constant events. 'Your popularity and social media following can be a reason you get a role, so actors can get caught up in it,' she said on the Two Shot Podcast in December. 'Actors and actresses attend more events than I see them on screen. at's something I definitely don't want to do.'
Instead, Jodie will be heading back to Liverpool when she's finished this round of promotion for the US debut of Killing Eve. 'What I love [about Liverpool] is that nothing changes,' the actor has said in the past. 'It is a bubble for me.' Which is exactly what it sounds like she needs right now.
Related: Everyone Returning To Killing Eve Season 2 & A Few New, Mysterious Faces [Refinery 29]