Lorraine Bracco remembers James Gandolfini's wild antics as The Sopranos cast reunites

Cover Media
11/01/2019
© Provided by Cover Media James Gandolfini used to strip off his clothes and dance like "crazy" when he completed filming an intense therapy scene for The Sopranos, according to co-star Lorraine Bracco.
The late actor portrayed mob boss Tony Soprano on the iconic crime drama, and would often have to recite pages and pages of monologues in scenes with his character's therapist, Dr. Jennifer Melfi, played by Bracco.
Download the Microsoft News app for your Android or iPhone device and get news & live updates on the go.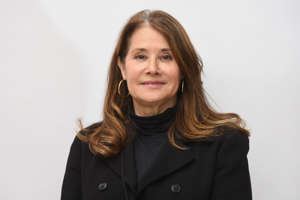 © Getty NEW YORK, NY - DECEMBER 09: Lorraine Bracco attends Toys Party 2018 at Pier Sixty at Chelsea Piers on December 9, 2018 in New York City. (Photo by Jared Siskin/Patrick McMullan via Getty Images) One of her favourite memories of working with Gandolfini was his playful nature, particularly after the cameras stopped focusing on him, and turned to Bracco.
"He would be so happy... that he would like, strip and dance and take his clothes off and get all crazy," she smiled on U.S. breakfast show Today. "And I'd be like, 'Hello! I gotta do my lines here!'"
She shared the memory during a special 20th anniversary cast reunion, 12 years after the show ended.
Actress Jamie-Lynn Sigler, who played James' TV daughter Meadow, grew emotional as she recalled a key moment between their characters as they visited colleges in season one.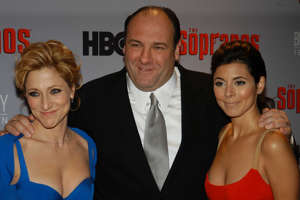 © Getty MARCH 7: (L-R) Edie Falco, James Gandolfini and Jamie-Lynn Sigler attend Sopranos Inside Arrivals at MOMA NYC USA on March 7, 2006. (Photo by Chance Yeh /Patrick McMullan via Getty Images) "He could tell I was nervous (about the scene) and he just said, 'Just look in my eyes and trust me,'" she remembered.
Jamie-Lynn, now 37, reveals James would go out of his way to ensure both she and Robert Iler, who played her younger brother, A.J., were properly taken care of on set.
"The way that he would check up on us behind the scenes that we found out later, the care he felt and the responsibility he felt to make sure we were OK, you don't find very often," she said, choking back tears. "It's really special."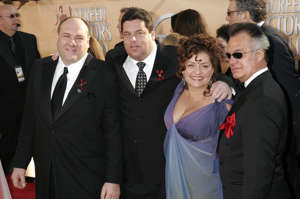 © Getty From the television show, 'The Sopranos', from left, James Gandolfini, Steve Schirripa, Aida Turturro and Tony Sirico. (Photo by Francis Specker - PA Images/PA Images via Getty Images) The group of co-stars, including Edie Falco, Michael Imperioli, Vincent Pastore, and Steven Van Zandt, admitted the get-together was bittersweet without the presence of Gandolfini, who died from a heart attack in 2013.
"It's like there's an invisible Jim bubble around us and every hug is a little longer. He's very, very missed," Robert added.
The Sopranos ran for six seasons until 2007.
Creator David Chase has since started work on a prequel movie, called The Many Saints of Newark, which will explore aspects of Tony Soprano's childhood during the race riots of Newark, New Jersey in the 1960s.
Gallery: 'The Sopranos' cast: Where are they now? [Wonderwall]