Martin Freeman to return for 'Black Panther 2,' unsure of 'Sherlock' future

Yahoo! Entertainment UK
16/08/2019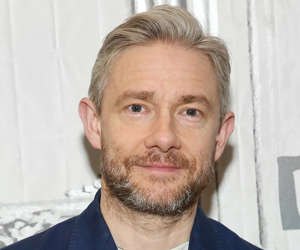 © Getty Getty Martin Freeman has confirmed that he expects to return as CIA Agent in Everett K Ross in Black Panther 2, however he is much less sure when there will be more episodes of Sherlock.
First of all, let's give you the good news. After being asked by Collider about his potential return as Ross for Black Panther 2, Freeman confidently declared, "As far as I know, I will be [returning]. As far as I know, I will be in another Black Panther. That's my understanding. As to when that will happen, I don't know."
Which suggests that Freeman, who has only played the character in Captain America: Civil War and Black Panther, has signed a lengthy contract with the studio that he is looking to fulfill.
But while Freeman expects to be involved in Black Panther 2, which wasn't actually announced as part of MCU's Phase 4 but is likely to arrive when Phase 5 kicks off in 2022, he is less confident about the future of Sherlock.
The last episode of Mark Gatiss and Steven Moffat's contemporary adaptation of Sir Arthur Conan Doyle's legendary detective series was released in January, 2017. Unfortunately, Freeman, his co-star Benedict Cumberbatch, and Gatiss and Moffat have been too busy to figure out when more episodes might be made.
"They're few and far between, the discussions about Sherlock, just because Mark [Gatiss] and Steven [Moffat], the writers, and Benedict [Cumberbatch] and I, are all lucky enough to be not only working on stuff that we like and are interested in," he once again told Collider.
When asked whether he believed a fifth season would ever happen, Freeman explained, "If it's something really special, and if it's something really meaty and interesting, then I think we'd all be open to that."
"Sherlock always sounds a bit like an event, anyway. We did three episodes [each season]. Albeit they were long episodes. They were 90-minute episodes, but they were quite few and far between, by television standards. Normally, you're looking at 10 or eight episodes. We did relatively few, even though there was a lot of material."
"It always felt like an event, so if we do more, it has to be worthy of that. We couldn't come back with something that was quite good. It would have to feel really, really special. It was that kind of show."
Gallery: 50 TV shows everyone should watch in their lifetime (INSIDER)
Explore the issues faced by the UK's most vulnerable children and young people this summer and discover what you can do to help.