Why Bradley Cooper Begged J.J. Abrams' to Write Him Out of Alias at the Start of His Career

People
17/01/2019
© Provided by TIME Inc. Why Bradley Cooper Begged J.J. Abrams' to Write Him Out of Alias at the Start of His Career Long before Bradley Cooper received rave reviews for his directorial debut A Star Is Born, the actor starred in the popular series Alias.
Cooper, 44, starred as Will Tippin, a journalist and friend of Jennifer Garner's Sydney Bristow. The actor admitted in a 2013 interview with GQ that as excited as he was for the opportunity, he gradually grew frustrated as his role began to shrink over seasons.
Download the all-new Microsoft News app to receive up-to-the minute news from the world's best sources – available now on iOS and Android
Video: Lady Gaga and Bradley Cooper Cheer On Costar Sam Elliott at His Hand and Foot Imprint Ceremony
"I would only work three days a week," he explained at the time. "And then for the second season, I got even more sidelined. I was like, 'Ugh.' And then, the next thing you know, I was like, 'I want to f—— kill myself.'"
Against the advice of those closest to him, Cooper asked the show's creator, J.J. Abrams, to write him out of the show.
"J.J. was like, 'Okay,'" Cooper recalled. "He probably would've fired me, anyway."
Shortly after speaking with Abrams, he tore his Achilles tendon while playing basketball and spent a year recuperating. The injury took him away from acting and caused him to contemplate quitting for good.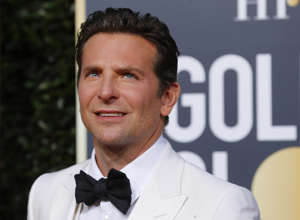 © Reuters Cooper recovered, however, and was quickly cast in Wedding Crashers. The Oscar-nominated actor official left Alias in 2006 and his departure led way to a series of roles in films such as Yes Man, He's Just Not That Into You and his 2009 hit The Hangover.

After that, Cooper's career skyrocketed and he followed it up with All About Steve, Limitless, Silver Linings Playbook and American Hustle.

He's also joined the Marvel franchise voicing the characters of Rocket in Guardians of the Galaxy and Avengers films.
With A Star Is Born, Cooper has established himself as a director and has earned Golden Globe, SAG and Director's Guild Award nominations.
Gallery: 22 things you didn't know about Bradley Cooper (Insider)