Years and Years on BBC One: Bask in the bleakness of this Britain of the future

Evening Standard
11/06/2019
© Provided by Independent Digital News & Media Limited (BBC/Red Productions/Guy Farrow) In Russell T Davies's now-ish future drama Years and Years there are places called the Erstwhiles.
At first the Erstwhiles are mysterious, as things tend to be in now-ish dystopias ("Siri: is'dystopia' plural? No? OK, carry on"). It's not even clear whether they are places or just a state of being.
Viktor (Maxim Baldry), the asylum seeker who knows something about these things, has heard that the Disappeared are sent there. "People don't just disappear," he says, "they've gone Erstwhile." They do that, don't they? And by 2028, which is the now that the show is currently inhabiting, Erstwhile might start to seem like a halcyon time.
But enough about me. In this fictional 2028, with its 2018 cars, a populist politician called Vivien Rook (Emma Thompson) is elected prime minister by a mad-as-hell populace on the basis of a questionable Northern accent and a habit of telling it like it is. Rook has the smiling grimace of Margaret Thatcher and the patter of a comic at the Wheeltappers and Shunters Social Club. She is a friendly fascist. She is reassuringly blunt. "As Victoria Wood once said," she says, "the British would only have a revolution if they changed the laws on caravanning" ("Siri: will people still be quoting Victoria Wood in 2028?"). Let's hope so.
Or possibly this is a reference to that other influence on Thompson's performance, the caravanning former foreign secretary Margaret Beckett. Remember when caravans were a flexible holiday choice and not a stream of asylum seekers in the imagination of a demagogue?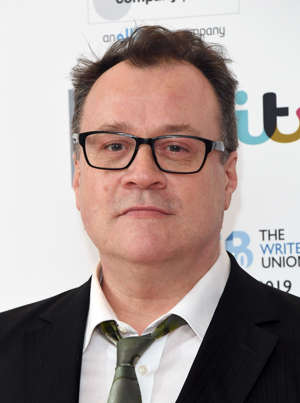 © Getty LONDON, ENGLAND - JANUARY 14: Russell T Davies attends the Writers' Guild Awards 2019 held at Royal College Of Physicians on January 14, 2019 in London, England. (Photo by Stuart C. Wilson/Getty Images) Anyway. There is a lot going on. There has been a significant death, and this is the axis on which the show turns, the thing that brings those faraway problems close to home. Tonight it prompts a very bad act.

Meanwhile, there are signs that as well as the abundance of jokes about technological advances — filing cabinets: "Seen them in films"; paper: "It's just so papery" — the plot is about to wash away all this nostalgia for an age yet to come.
Years and Years continues tonight at 9pm on BBC One.
Gallery: 25 of the most expensive TV series of all time (Stacker)
MSN are empowering Women In Sport this summer. Find out more about our campaign and the charity fighting to promote the transformational and lifelong rewards of exercise for women and girls in the UK here.