Preserves and pickles: 5 recipes you have to have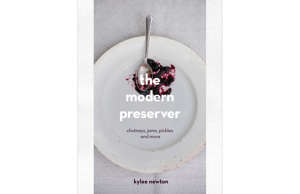 © Philippa Langley/Square Peg

Hackney-based New Zealander Kylee Newton, aka The Modern Preserver, is a woman who has taken the ancient craft of preserving to a whole new, modern level. Her book 'The Modern Preserver' contains more than 130 recipes that cover all aspects of preserving, from chutneys, pickles and jams, to cordials and alcohols, and includes recipes for homemade ketchup and one of 2015's favourite food trends – kimchi. Preserving is not only hugely satisfying, cost-effective, and prevents food waste, a jar of something bright and tasty is always a winning gift.
Scroll through this gallery to see five of Kylee's great recipes. For the rest, buy the book, out 20 August.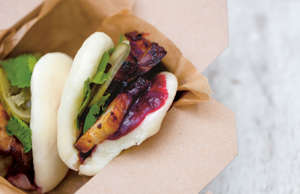 Homemade Chinese plum sauce
In China, people have been cooking with plums for over 3,000 years and they are celebrated as a symbol of endurance and strength because they survive the long cold winters. In other countries, plums start to appear early in the summer and they last until early autumn. If you live in a city where there are plum trees, you will have been lucky enough to experience their beautiful blossom in the spring.
Makes: 3-4 x 500ml bottles
Season: early summer to early autumn
How to eat: use as a dip with summer rolls, duck pancakes or pork buns
Ingredients
2kg plums
500g red onions
4-6 garlic cloves
500g granulated sugar
500ml cider vinegar
100ml good-quality soy sauce
1 tbsp ground ginger
1 tbsp English mustard powder
1 tsp ground cinnamon
1 tsp cayenne pepper
½ tsp ground cloves
Method
1. Stone and chop the plums, peel and dice the onions and peel and grate the garlic. Puree them together in a food processor or blender, in batches, until smooth and put in a large, heavy-bottomed pan.
2. Add all of the other ingredients and bring to the boil, stirring regularly to prevent the sauce sticking to the bottom of the pan and burning.
3. Simmer and stir steadily for 60-70 minutes until the sauce has thickened and reduced by about a third, keeping in mind it will thicken more once it cools. If it needs to be thicker, mix a little cornflour with water and add a little at a time until it is the right consistency.
4. Using a funnel, ladle or pour the sauce into warm, dry sterilised bottles, holding the funnel up slightly from the neck to quicken the flow.
5. Gently tap the bottom of the bottles on a hard surface to remove any air bubbles and seal.
6. You can eat this one straightaway or leave it to mature for 2-4 weeks before opening.
Shelf-life: keeps for up to 6 months to a year unopened. Once opened, keep in the fridge and eat within 4 months.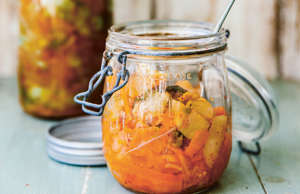 Kimchi
Korean fermented vegetables, known as kimchi, are generally served as an accompaniment to a variety of traditional Korean meat, fish and vegetable dishes. Like sauerkraut, kimchi is thought to have health-giving properties because of its combination of raw super-food vegetables and the 'good' bacteria produced during fermentation. More and more people are experimenting with making kimchi these days and you're as likely to find it in a street-food wrap or a burger as you would served alongside traditional Korean fare.
Makes: about 4x300ml jars
How to eat: with Korean marinated meats for your own Korean barbecue
Top tips: kimchi can take a few goes to get it right. My tips are: 1) Use sea salt that is unrefined because iodised salt will prevent your vegetables from fermenting. 2.) Use a large glass jar with a wide opening or a ceramic fermentation pot, so the high salt content won't eat away at the vessel. 3.) Use a hard cabbage that won't turn to mush. 4.) Go easy on the aromatics such as garlic, onion and ginger because these flavours increase during fermentation.
Ingredients
1 litre water
4 tbsp sea salt
1 firm cabbage (napa is traditional)
3 carrots
1 mooli (daikon)
1 small onion
2 garlic cloves
5cm-piece fresh ginger
3 shallots
1 tbsp gochugaru powder or cayenne pepper
1 tbsp sea salt (optional)
Method
1. Mix together the water and salt until the salt dissolves.

2. Coarsely chop the cabbage. Peel the carrots and mooli and slice into fine discs using a mandoline, or make 5cm-long ribbons using a vegetable peeler.
3. Put the vegetables in a large bowl and cover in the salted brine.
4. Soak for 8-24 hours, making sure the vegetables are completely covered with the liquid and put a plate on top of them to weigh the mixture down.
5. Peel and dice the onion, garlic, ginger and shallots, then put the onion, garlic and ginger into a food processor or a pestle and mortar and blend/bash into a paste.
6. Put the paste into a bowl and stir through the gochugaru powder and shallots.
7. Drain the vegetables, reserving g the brine. Taste the vegetables for saltiness. If they are too salty, rinse them with cold water; if they are not salty enough, mix through some extra sea salt.
8. Combine the vegetables with the paste, mixing them well to ensure that they are evenly coated.
9. Gently squeeze the vegetables with your hands. This bruises the cell walls and helps release their juices.
10. Pack the mixture tightly into the bottom of a 2.5-3 litre glass jar or ceramic pot, gently pushing down with your fist to release more juice until it is submerged in its own liquid. If necessary add some of the reserved brine just to cover.
11. Scrape down and clean the inside of the jar with a spatula then weigh the mixture down with a flat plate that fits inside the jar, with a weight on top (like a smaller jar filled with water and sealed).
12. Cover the jar with a muslin square or tea towel so it can breathe, and secure.
13. Leave to ferment in a warm place at around 20-25°C, If it's cooler then it will just take longer.
14. Check and taste daily, making sure the vegetables are always submerged in the brine. Depending on your taste and the room temperature, this can take around 3-14 days. It's ready when it tastes sour and tangy.
15. Pack tightly into warm, dry sterilised jar leaving a 5mm gap between the top of the vegetables and the rim and seal.
Shelf-life: keeps for up to 6-8 months unopened in a cool, dark cupboard. Once opened, keep in the fridge and eat within 4-6 weeks.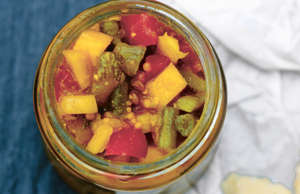 Posh piccalilli
I call this posh piccalilli because I love to add heritage vegetables, such as purple, yellow and red carrots to the mix. You can also use romanesco, broccoli, mooli (daikon radish) or podded peas for extra colour and crunch – experiment to make a gorgeously vibrant pickle.
Makes: 6-7 x 300ml jars
How to eat: an Anglo-Indian classic – eat with cheddar on crackers or in a sandwich
Top tip: the key to this recipe is to dry the salted vegetables thoroughly so excess water doesn't ruin the thickened sauce once in the jars.
Ingredients
1.2kg selection of 6 vegetables: cauliflower, romanesco, mooli, courgette, cucumber, green beans, fresh peas, heritage carrots, shallots, red/yellow/green peppers, fresh corn kernels
2 tbsp salt
1 tsp coriander seeds
1 tsp cumin seeds
1 tbsp yellow mustard seeds
450g cornflour
2 tsp ground turmeric
2 tsp yellow mustard powder
600ml cider vinegar
150g granulated sugar
4 tbsp honey
Method
1. Prepare the vegetables by cutting them into small, similar-sized pieces (about 2.5cm each is ideal). Put in a bowl, sprinkle with the salt, making sure it is evenly distributed and leave at room temperature for at least 24 hours.
2. The next day, rinse the vegetables with ice-cold water, drain and dry thoroughly, either in a salad spinner if you have one, or by patting dry with kitchen paper.
3. Blend or crush together the coriander, cumin and mustard seeds. Put in a bowl with the cornflour, turmeric and mustard powder then stir in a little of the vinegar to make a paste.
4. Bring the remainder of the vinegar, the sugar and honey to a gentle simmer in a medium, stainless steel pan, slowly dissolving the sugar.
5. Add a ladle of this warm vinegar to the spice paste and mix well.
6. Slowly pour this sloppy paste into the pan of vinegar on the heat, stirring as you pour.
7. Bring to a simmer, stirring, allowing the cornflour to thicken the mixture until it is a bit like a thick pancake batter.
8. Remove from the heat, add the dry vegetables and stir until well coated with the vegetables.
9. Pack the piccalilli into warm, dry sterilised jars, filling them to about 5mm below the rim and seal.
10. Can be eaten straight away but is best kept sealed in a cool, dark place for 3-4 weeks to allow the spices to infuse into the vegetables and for the sharpness of the vinegar to mellow
Shelf-life: keeps unopened for up to a year. Once opened, keep refrigerated and eat within 4 weeks.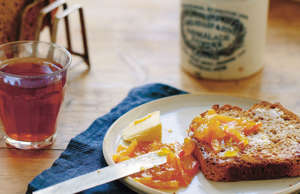 Orange and vanilla marmalade
Marmalade can be very bitter – this one has a slight bitterness from its peel – but the addition of vanilla seeds mellows this, giving it a smoother, milder flavour. This marmalade can even persuade a non-believer to love marmalade.
Makes: 8-9 x 228ml jars
Season: winter
How to eat: on warm, buttered, seeded toast or English muffins
Ingredients
850g oranges
1 lemon, zest and juice
1.5 litres water
1 vanilla pod
1.8kg preserving sugar
Method
1. Cut the whole oranges in half, then slice into very thin semi-circles, about 2-3mm thick. Discard any pips.
2. Put the orange slices into a large jam pan with the lemon zest, lemon juice and water then boil on a high heat for 10 minutes.
3. Reduce the heat to a simmer and cook for at least 40 minutes or until the peel has softened.
4. Split the vanilla pod lengthways and remove the seeds, stir the seeds through the jam jar then add the emptied pod and vanilla sugar to the pan, stirring until it dissolves. Boil at around 104°C, stirring continually, for around 15-20 minutes until it has darkened in colour.
5. Use the wrinkle test to check if it has reached the desired setting point and, when ready, take off the heat, remove the vanilla pod and skim off any scum from the surface. Leave to sit fir 5-8 minutes.
6. Ladle into warm, dry sterilised jars and seal.
Shelf-life: keeps unopened for up to 6-8 months. Once opened, refrigerate and eat with 6 weeks.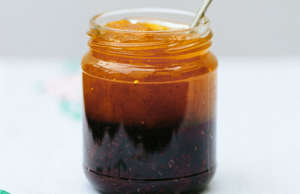 Two-tone peach and blackberry jam

This recipe is a bit of fun: two jams for the price of one. It looks amazing and gets a lot of attention on the Newton and Pott market stall. You could actually do this with most of the recipes that have a medium set as they will happily sit on top of each other without mixing together. Try Pear jam without its added lavender, with the Raspberry and rose jam on top (see book for recipes).
Makes: 6-8 x 228ml jars
Season: late summer to early autumn
How to eat: with toast, and use a long-handled spoon to get the jams out of the jar, to make sure you get the best of both flavours!
Top tip: The peaches need peeling for this recipe. Do this by cutting a cross on their base, blanching them in boiling water for a couple of minutes, then dunking them in ice-cold water. The skins will peel off easily. Make sure you start the peach jam first as it takes longer and, while it's cooking, prepare the blackberry jam. That way the jars won't cool too much before you pour in the second jam.
Ingredients
For the peach jam
1kg peaches
500g jam sugar
40ml lemon juice (about ½ lemon)
For the blackberry jam
1.6kg blackberries
200ml water
1kg
Jam sugar
30ml lemon juice (about ½ lemon)
Method
1. Peel, stone and dice the peaches. Combine all the peach jam ingredients together in a large pan and boil, stirring often, for 30-40 minutes.
2. Use the wrinkle test to check the setting point then, when ready, take off the heat and skim off any scum from the surface.
3. Meanwhile, place the blackberries in a separate large jam pan with the water and slowly soften on a moderate heat for about 10 minutes
4. Add the jam sugar, stir to dissolve then bring to the boil for about 15-20 minutes, stirring intermittently.
5. Use the wrinkle test to check the setting point then, when ready, take off the heat and skim off any scum from the surface.
6. Mark a halfway line on the warm, dry sterilised jars and oour in the blackberry jam to fill up to this line. Let it sit for 5 minutes while it forms a seal and you finish the other jam.
7. Once the peach jam is ready, pour it on top of the blackberry jam to fill the jars almost to the rim and seal.
Shelf-life: keeps unopened for up to 6 months. Once opened, refrigerate and eat within 4-6 weeks.