Batter royale: why Brits and Americans will never agree on hot gloop

The Guardian
09/05/2018
© PA A Yorkshire pudding pizza. A perceived slight against the yorkshire pudding appears to have thrown the British public into a frenzy, thanks in part to the BBC's shocking declaration that the "New York Times thinks Yorkshire pudding is a dessert".
According to BBC News: "confusion has reigned supreme on Twitter after the New York Times tweeted its version of a classic Yorkshire pudding – to be served with 'syrup, preserves, confectioners' sugar or cinnamon sugar'."
Related video: Yorkshire Day: How to make the perfect Yorkshire pudding (Provider: Press Association)
Let's get the cold, hard facts out of the way: the US does not have yorkshire pudding. Grocery stores don't stock Aunt Bessie's between the frozen peas, ice cream and mozzarella sticks. Home goods stores don't carry tins to make yorkshire pudding in alongside cake molds and pie pans.
Instead, we fill the absence with biscuits, rolls and popovers – the yorkshire pudding's American cousin.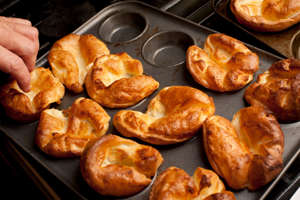 © Getty What we certainly don't do is dress up the Sunday Roast staple in powdered sugar and jam and pretend it's the same thing.
That is a different dish, the Dutch baby, which when shared by the New York Times on Twitter inspired fierce protestations of: "That's a Yorkshire pudding, mate." 
This large, fluffy pancake is excellent for breakfast, brunch, lunch and dessert any time of year https://t.co/rIYTybknnm pic.twitter.com/iAlpcidZxe

— The New York Times (@nytimes) May 12, 2018
The New York Times's recipe, much like American grocery stores, does not include a mention of yorkshire pudding.
And a keen observer would notice this particular dish is always much larger than the traditional yorkshire pudding – a Dutch baby calls for a large, paella-sized pan.
Sure, giant yorkshires are available in the UK, but as my colleague Alex, a Yorkshireman, explained to me: "The point isn't really eating a large one but eating a lot of them."
© Getty "They were actually made so that poor families could fill people up with yorkshire puddings so they wouldn't eat as much meat for a Sunday roast," he continued. "Yorkshire people always have them as a first course. I reckon I could put away six, easily."
But the size didn't matter for some New York Times commenters, including one person who declared: "This is not a dessert! This is a thing of beauty that should be filled with beef and vegetables. Or sausage and mash. It is a Yorkshire pudding."
Interestingly, in a small, non-scientific survey of six British people, the question 'have you ever had a yorkshire pudding with sweet, rather than savory, toppings' was met with, yes, curse words, but also two tales of their families eating it cold with sugar and vinegar.

So, in divisive times such as these, maybe the best thing for all of us to do is to gather around Morrisons yorkshire pudding pizza and accept that big batter-based vestibules can be for more than just gravy.
Related: Yorkshire Pudding Pizza Is the Best of the UK and the US in One (Provider: The Daily Meal New Spanfeller)
For more of the most popular News, Sport, Lifestyle & Entertainment on MSN, Follow us on Facebook, and on Twitter