Braybrooke Beer Co: the new British beer at the forefront of the UK's lager revival

Evening Standard
08/10/2018
Ask busy restaurant owners about their long-term dream, and chances are they'll go all misty eyed and speak of vineyards in the south of France, or setting up shop in the country.
Meet the three hospitality heavyweights who have made that dream happen, this year setting up a new lager brewery from a farmhouse and converted barn in the English countryside.
Download the Microsoft News app for your Android or iPhone device and get news & live updates on the go.
Luke Wilson, Nick Trower and Cameron Emirali have, between them, commanded restaurant kitchens, front of house, wine sales, and beer importing, with their careers intertwining at various stages: Wilson and Trower together in sales at Liberty Wines, of which Emirali was a customer, before Wilson and Emirali teamed up to open the ever-popular Soho restaurant, 10 Greek Street, to which Trower then sold to via his self-started beer importing company, Biercraft. Over the course of those years, the conversation of opening a brewery was formed, and earlier this year, Braybrooke Beer Co arrived.
Taking the train through the countryside to the quaint town of Market Harborough, Leicestershire, you can see it's the ideal getaway from the late nights and constant din of London restaurant life, where all three operators are still very much involved with their respective businesses. But on stepping off the train and arriving at the brewery, the wide open space and clean air, and whiff of malts carried on the breeze, already feels good for the soul. "Time seems to move slower out here," says Luke Wilson, "and it's certainly better for sleep." I'm not sure if he's talking about the silence, the country air, or the abundance of beer, but I'm inclined to agree.
Watch: Out-of-This-World Vostok Space Beer Bottle Could Bring Suds to Zero-G [Daily Post]
Standing opposite the converted grain store that now houses a state-of-the-art-brewery, we're staring at the heart of Braybrooke where their flagship Keller Lager is brewed. On the decision to make a lager over any other type of beer, Luke explains: "After years of wild and wacky IPAs and dark ales, people are fatigued with those massive flavours. We've come full circle - people don't want to have their taste buds blown off, we just want something we can drink."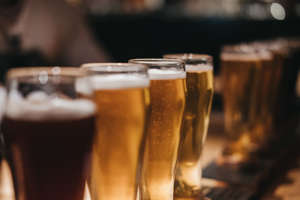 Close up of a rack of different kinds of beers, dark to light, on a table. Selective focus. It seems, in the hype of the big flavours that come with dark beers and ales, lager has been forgotten. "It's actually a really enjoyable beer," Luke says, "not the mass-market styles that people think of as bland, fizzy and boring, but with proper, well-made lager you can have elegance, subtlety, and drinkability." So light beers are making a comeback, and Braybrooke Beer Co are harnessing that, keeping a focus on small-scale production.
"We wanted to make something small-scale, but also something really high quality and with provenance," Trower explains. "If you go to Belgium or Germany you can find all these amazing lagers made by small, local breweries." Which, naturally, lead the team to Bamberg, Germany's famous beer city, to see Stefan Michel of respected brewery, Mahr's Bräu.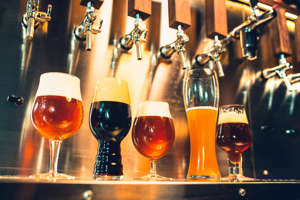 The beer taps in a pub. nobody. Selective focus. Alcohol concept. Vintage style. Beer craft. Bar table. Steel taps. Shiny taps. Glass of beer In true Braybrooke style, there was of course a historical tie, as Mahr's Bräu was also the first brewery that Nick imported on Biercraft. Seeing the potential, Michel jumped on boar. "He's our brewing guru," laughs Trower. "So we're making German style lager - that's what the Keller lager is - but in the English countryside. The best of both."
When made well, lagers not only offer impressive substance, but also subtle complexities and even texture that works well with food. Keller lager as a style is complex and rich, and having tested it out on some good and proper country pub-grub, I can confirm it's a match well made.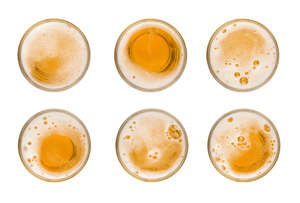 Cheers to that.
© Provided by Independent Digital News & Media Limited