Breaking your no-sugar rule, Mrs Beckham? Fashion designer Victoria launches a collection of luxury £35 CHOCOLATES - despite shunning the sweet treats herself

Daily Mail
11/07/2018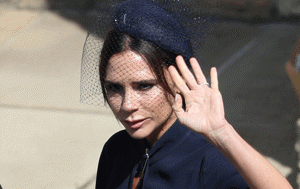 © Reuters She famously doesn't eat much sugar, and this year enjoyed a birthday 'cake' made out of fruit instead of a traditional sponge.
So it seems unusual that fashion designer Victoria Beckham, 44, has now launched her own range of high-end chocolates.  
The entrepreneur, who has often spoken about her strict low-sugar healthy diet, has partnered with luxury Belgian chocolatier Pierre Marcolini to design a £35 limited-edition box of 16 glossy chocolate hearts.
It's not known whether the former Spice Girl broke her no-sugar rule to taste the chocolates.
© Provided by Associated Newspapers Limited Coming in four different shades 'of emotion' from pale cream to deep red, the chocolate hearts contain four different fillings including The chocolates, which launch in October, will be called 'Les Coeurs de Victoria Beckham' - which means Victoria Beckham's Hearts in French.
They will be released to celebrate the 10th anniversary of Victoria's fashion house, which was founded in 2008.
Victoria, who last year received an OBE for services to the fashion industry, used her design know-how to create the collection of filled chocolates, which come in four flavours, with Pierre Marcolini.
Though a box of chocolates may appear to be an unusual way of marking a milestone for Victoria's fashion brand because she famously shuns sugar, a spokeswoman said that the chocolates are designed to have a 'low sugar content'.
Related: Victoria and David Beckham's most stylish couple moments (GES Photo)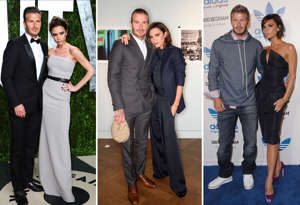 Coming in four different shades which represent 'four shades of emotion', the hearts are filled with different oozing centres, including casse-noisette, caramel salted butter, 'rose-passion' and exotic yuzu.
They use 'rare and exotic ingredients,' a spokeswoman added. 
Explaining the unlikely collaboration, a spokeswoman said: 'Pierre and Victoria both share a sensibility when it comes to love stories; celebrating family and precious moments with the ones who count every day. 
'With Pierre's contemporary and forward-thinking approach to creation and Victoria's unique and modern language of clothing this was the perfect collaboration.'
Les Coeurs de Victoria Beckham will be available from Pierre Marcolini boutiques worldwide and will come to an exclusive pop-up in the Victoria Beckham Dover Street store from Thursday, October 4. 
Related: 5 crazy ice cream flavours (Buzz60)