Brit's 'record-breaking' £700,000 wedding cake in shape of life-sized bride decorated with five flawless diamonds and 1,000 pearls

Mirror
08/02/2018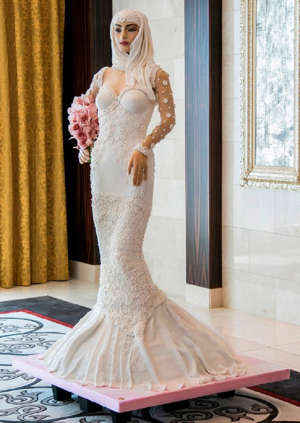 © Provided by Trinity Mirror Plc A renowned British celebrity cake designer has revealed her latest stunning creation - a $1million (£700,000) masterpiece in the shape of a life-sized bride. 

Debbie Wingham's astonishing 6ft cake features five flawless three-carat white diamonds, each valued at £145,000, along with smaller stones on the head dress.
It also boasts 1,000 pearls and 5,000 hand-cut flowers, and was so heavy at more than 100kg (16st) that five people were needed to carry it.
The 'record-breaking' cake took 10 days to make the cake with a lot of bling and a lot of ingredients, including 1,000 eggs, 25kg of chocolate and 50kg of lace-textured fondant.
London-based Ms Wingham, 36, sculpted the cake for a wedding show in Dubai and holds the current record for the world's most expensive cake, at £50million. 
The "world's most expensive designer" teased the creation on her Instagram account, and made the big reveal at the Dubai Bride Show on Wednesday night.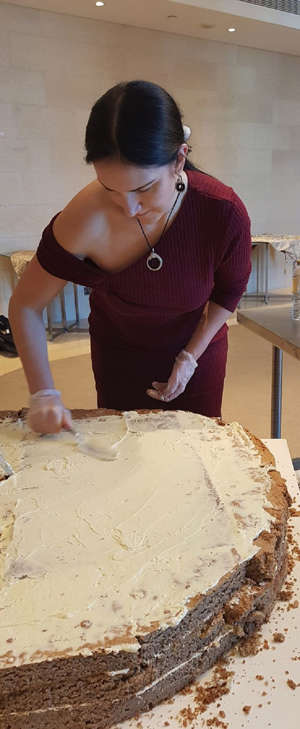 © Provided by Trinity Mirror Plc Exhausted Ms Wingham, who worked long hours each day, wrote: "Ta dah! The big reveal! Introducing the million dollar bride!!!!!
"Inspired by Arabian influence this was her in the beautiful Raffles Dubai where she was created."
Her creation was a collaboration with the hotel's pastry team.
She told the Khaleej Times: "The diamonds were actually sourced from one of my UAE-based clients who was only too happy to loan them to me.
"No one actually believes it's a cake. In fact, she is as good as a living being for me. I call her Lulwa [meaning pearls in Arabic]."
"I have often been influenced by Middle Eastern culture. To actually make a Middle Eastern-inspired wedding cake is really up there with my other exciting endeavours. Most of my pieces are based on realism and I am glad that people liked it."
The former haute couture designer has an exclusive baking business called Couture to Cakes, which currently has a waiting list of more than six months.
In 2015 a wealthy family in the United Arab Emirates paid almost £50million for one of her cakes, making it the most expensive one ever made.
The cake - for a woman's joint birthday and engagement party - weighed as much as a grizzly bear and featured a thousands of stones that were a carat or more, including a 5.2-carat pink diamond, a 6.4-carat yellow diamond and 15 five-carat white diamonds.
Ms Wingham turned to baking after previously making the world's most expensive dress for £11.5million from black and red diamonds.
Last year she created the world's most expensive pair of shoes, value at £10million.
Before that she had created the world's most expensive black diamond dress, followed by a red diamond abaya gown.
The new bridal cake is also the tallest cake she has ever made.
A spokeswoman for Ms Wingham said:" The bridal gown cake is so elegant, the material looks so realistic its hard to believe its meant to be eaten.
"The cake techniques included cake lace, embossing, sculpting and moulding and even creating edible fabric using rice paper and some modern techniques adopted from Debbie's days as one of the world's finest couturiers."
"This fabric manipulation can be seen as the fondant comes to life and looks like material."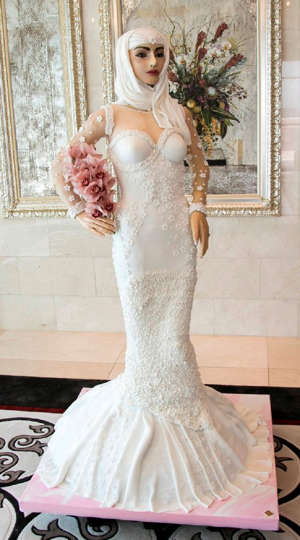 © Provided by Trinity Mirror Plc Ms Wingham used to dress the rich and famous, with celebrity clients including Katy Perry, Kate Winslet, Justin Bieber and Drake.
She has worked on shows including X-Factor and Downton Abbey.
For more of the most popular News, Sport, Lifestyle & Entertainment on MSN, Follow us on Facebook, and on Twitter