Croatian winery opens with an underwater twist

Easyvoyage
19/06/2017
Watch: This Underwater Winery Is Like Nothing You've Ever Seen Before (by Buzz60)
Edivo Vina last month opened Croatia's first underwater winery where the produce is stored on a sunken boat off the coast of the Mali Ston Bay for up to 2 years.
More enthusiastic connoisseurs can even put on a wetsuit and dive into the depths of the Adriatic to see the underwater cellars first hand.
The owners, Anto Segovic and Edi Bajurin, were enthusiastic about the opening. Speaking to the local press they said "Guests now have the opportunity to see first-hand the whole process of wine amphorae in a space that exudes traditional details characteristic of the peninsula."
The process begins at the vineyards in Drace. After the grapes are harvested they are left to age three months over ground. Then, the wine is poured into amphorae and placed into padlocked cages before being submerged at around 20 metres underwater. It is kept there for just under two years and regularly checked on by divers .
The first amphorae to go underwater was in 2013, so it's been a long process.
Check out Croatia's first underwater winery, Edivo Vina! #croatiaholidays #winelovers #Dubrovnik pic.twitter.com/64jYq0Nmdy

— CroatiaCruises (@CroatiaCruises) April 17, 2017
Amphorae are clay jugs that were used predominately during the era of ancient Greeks and Romans. They have handles, a narrow neck and the interior is coated with rubber and a thin layer of resin to prevent any seawater leaking in.
Archeological excavations of sunken cargo ships have found that the jugs are often remarkably well preserved and protecting the inner content. So, they are the perfect choice for storing wine in the underwater cellar.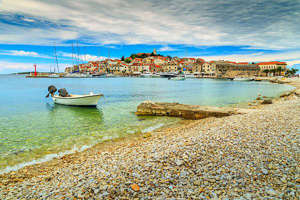 © Provided by Webedia SAS "The perfect silence underwater improves the quality" Furthermore, the producers claim that these particular containers helps give the wine a 'pinewood aroma'.
Their website further explains the benefits of storing the wine underwater by stating: "The sea provides natural cooling in ideal conditions and the perfect silence underwater improves the quality," Indeed, research has shown that the water pressure, currents and temperature can alter chemical compounds in wine.
When the bottles are finally brought to the surface covered in seashells, barnacles and algae, they look like underwater treasure. But, underwater treasure is not cheap and prices start at £270.
This business is not the first to come up with the idea of ageing wine underwater. Since 2011, Italian maker Bisson keeps sparkling wine in cages under the surface of the Mediterranean for up to 18 months with the algae-covered bottles are then sold on.
Watch: Discover the beauty of Croatia (by BuzzVideos)