Food writer Ruby Tandoh slams Lucy Watson for claiming 'most people' should be vegan

The Independent
09/02/2018
© Provided by Independent Digital News & Media Limited Food writer and former Great British Bake Off finalist Ruby Tandoh has criticised ex-reality TV star Lucy Watson for saying that "most people" should be vegan.

The former Made In Chelsea cast member released a vegan cookbook in 2017 and advocates the diet on social media, mostly for ethical reasons.
"If you're against animal cruelty, like most people, then you should be vegan," the 27-year-old wrote in a tweet on Thursday that was liked more than 1,300 times.
there are so many reasons for not being vegan: disordered eating, lack of access to vegan foods, disability, medical problems, poverty and the countless social and cultural reasons why we might eat a certain way to establish our place in a group/family/society. this is unhelpful. https://t.co/dSiesoR2tk

— Ruby Tandoh (@rubytandoh) February 8, 2018
Tandoh, who has openly struggled with disordered eating, responded to Watson by listing the reasons why not everyone is able to go vegan, including eating disorders, lack of access to vegan foods, disabilities and medical problems.
She labelled Watson's "sweeping statements" as "unhelpful" and went on to lambast her in subsequent tweets for speaking from a position of privilege.
"You can't just dictate people's lives from a Sloane throne. Sorry," one reads.
"I will not stand by while yet another privileged-beyond-belief a**hole tries to tell people that they're living their normal, kind, happy, healthy lives all wrong," adds another.
Watson replied directly to Tandoh's tweets by accusing the food writer of only taking offence to her comments because her own cookbook contains meat and dairy recipes.
I see your book contains promotion of meat & dairy products... wouldn't be why you're taking so much offence would it

— Lucy Watson (@imLucyWatson) February 8, 2018
"I write about how to achieve a happy, healthy relationship with food – no matter what that looks like," Tandoh responded.

"All i have to say is 1) veganism is great if you can do it and defo a wonderful, kind, moral thing 2) not everyone is able to be vegan. that's it."
The Independent has contacted both Watson and Tandoh for comment.
Related: 20 vegan high-protein foods (provided by Espresso)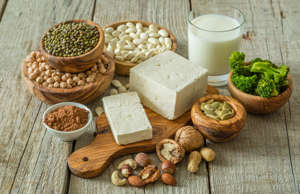 For more of the most popular News, Sport, Lifestyle & Entertainment on MSN, Follow us on Facebook, and on Twitter