From offal to nettles: chefs on the best underused ingredients to try at home

The Guardian
08/11/2018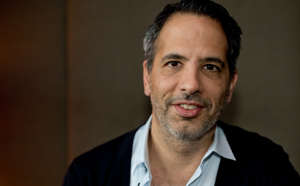 © Getty Israeli chef and author Yotam Ottolenghi poses for photographers in Munich, Germany, 18 November 2014. Photo: Sven Hoppe/dpa | usage worldwide (Photo by Sven Hoppe/picture alliance via Getty Images) A New Yorker profile of Yotam Ottolenghi in 2012 quoted a reader of his Guardian column, who said she had omitted an ingredient in a ceviche recipe. "I'm a bit of a Yotam fan," she wrote, "but his mere mention fills my husband (who does most of the shopping) with dread. This week's 'dried fennel pollen' might send him over the edge."
While asking for a quarter of a teaspoon of any kind of pollen feels like culinary Spinal Tap, Ottolenghi's lists of ingredients have changed the way that supermarkets stock their shelves. It would appear that the trickle-down effect in cuisine is as unmistakable as that seen in the fashion world from the supposedly cerulean blue jumper.
Download the Microsoft News app for your Android or iPhone device and get news & live updates on the go.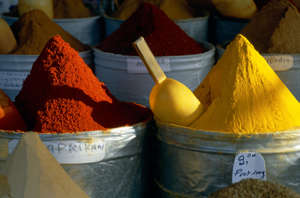 © Getty Spices Of course, our shelves are often piled high with bottles and jars of things to which we rarely turn; we are creatures of habit with kitchen cabinets deeper than our time-strapped meal-making abilities truly warrant. So, which spices, cuts, leaves and liquids have yet to shine on amateurs' kitchen counters? We asked 20 chefs around the country to tell us the ingredients we should be using more often.
Verjus
A great non-alcoholic substitute for wine in cooking. It is under-ripened grape juice, so very tart; less acidic than vinegar and more savoury than lemon. It is especially good with fish, scallops, john dory, even a bit of cod. I like to reduce it, then add a fish or chicken stock and reduce that again, to use as a base for a hollandaise sauce or a beurre blanc. It makes an excellent sorbet, too.
Ryan Simpson-Trotman, Orwells, Henley-on-Thames
Maggi sauce
A great, quick, cheap seasoning. Just a few drops really enhances the flavour of soups and sauces and brings to life a simple bowl of noodles. It has a similar consistency to Worcestershire sauce and is a richer, more complex version of soy sauce.
Pierre Koffmann, Koffmann and Mr White's, Bath
Unusual flour
© Getty Flour More expensive than plain flour, but still cheap, which makes experimenting with different varieties perfectly possible. Spelt makes good pastry, sweet or savoury; green pea flour makes great savoury pancakes; yellow pea and chickpea flour is good for fritter batter; chestnut and rye flour are excellent with chocolate. Right now, we're trying to make puff pastry with pea flour. So far it's delicious, it just doesn't puff.
Nicola Hordern, Darsham Nurseries, Suffolk
Togarashi
A versatile Japanese seasoning. You have got the flavour of citrus from the yuzu peel, nuttiness from the sesame seeds and smokiness from the chilli. Excellent on scrambled eggs, a bowl of rice or as a rim to a bloody mary.
Natalie-Lee Joe, Jidori, London
Foraged herbs
Hedgerow herbs, such as woodruff, are amazing in both sweet (poached apples or pears) and savoury (roasted parsnips) contexts. Not everybody has the knowledge to know what's what, but it's easy to learn – there are local courses on foraging available.
Chris Harrod, The Whitebrook, Monmouth
Kombu seaweed
Leave a piece in water for 40 minutes and you have a simple vegetarian dashi – or stock – that you can use as a base for soups, vegetables or meat stews. It's a wonder.
Margot Henderson, Rochelle Canteen, London
Celeriac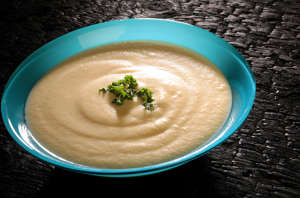 © Getty Cream of celeriac soup. (Christian Gooden/St. Louis Post-Dispatch/TNS via Getty Images) Massive in flavour, and cheap in terms of how much you get. It's extremely versatile – you can roast it, puree it or serve it raw. We roast it with cinnamon and nutmeg for a winter salad, but that's just because we like those spices – it's so flavoursome, you could not add anything at all.
Steffan Richards, Wright's Food Emporium, Llanarthney
Fennel seeds
Brings a delicious aniseed flavour to any dish, be that a vegetable curry or fish roasted in white wine. I like to crush them and mix with dried chilli and salt to sprinkle on fried fish or tempura vegetables.
Alex Jackson, Sardine, London
Tamarind paste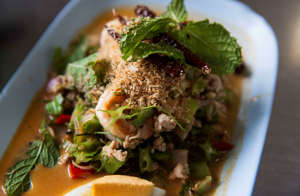 © Getty Recipe incorporating tamarind paste For adding acidity and amazing dark fruit aromas to a dish. It's available in any Asian grocers and most corner shops. You don't need much of it: a little spoonful works wonders in a chicken stir fry.
Brian Donnelly, Bia Rebel Ramen, Belfast
Gochujang
This Korean fermented red chilli paste is really tasty in chicken noodle broths or oxtail braises. It's concentrated so you don't need much and it packs a punch.
Jon Rotheram, The Marksman, London
Rice vinegar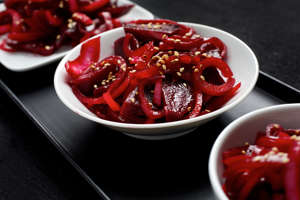 © Getty Beetroot in vinegar dressing A rounder, milder, sweeter flavour than other vinegars. Great for salad dressings, quick pickles or braising meat. It also has multiple health benefits.
Shuko Oda, Koya Ko at Market Hall Victoria and Koya restaurant, London
Offal
Delicious, nutrient-dense (so long as you go for organic, grass-fed meat that has not been pumped full of hormones and chemicals), cheap and, in terms of using the whole animal, sustainable. We make a herbacious terrine from pig's head meat, which we then slice, crumb and deep-fry to make croquettes.
Dorian Kirk, A Rule of Tum Burger Shop, Hereford
Dried fruit
Dried apricots and prunes are a great addition to any meat stew – for a dish that's too salty (sugar can balance the salt), too sour (sugar contrasts sour) or too wet (dried fruit soaks up water like a sponge, and thickens the sauce). Stewed alone, they are a lifesaver for breakfast or pud.
Jacob Kenedy, Bocca di Lupo, London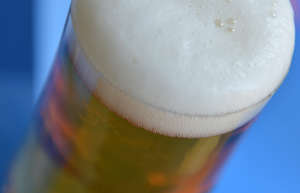 Beer
In place of wine, cooking with beer adds fantastic depth of flavour to both savoury dishes – a dark beer in, say, a steak pie – and sweet desserts alike. Making cocktails with beer also adds something a little different.
Tom Kitchin, The Kitchin and Scran & Scallie, Edinburgh
Date syrup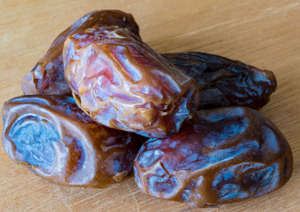 © Getty Dates A great way to use less refined sugar. It has a lovely dark colour and is so versatile – drizzled over yogurt, in poached-fruit syrups, cakes, ketchups, dressings.
Neil Campbell, Rovi, London
Nettles
Delicious, abundant and free; a great alternative to cultivated greens. I like them wilted, seasoned and served with butter and good olive oil. From February to late April, use gloved hands to pick only the tips, the most tender succulent bit.
Gill Meller, River Cottage, Axminster
Asafoetida
When cooked it perfectly emulates the smell and flavour of onion and garlic fried in butter; paired with fenugreek, it makes the biggest supercharged ingredient. Particularly good with any lacklustre, watery veg: courgette, marrow, squash, leeks.
Nisha Katona, Mowgli's Street Food, Manchester/Liverpool
Fish heads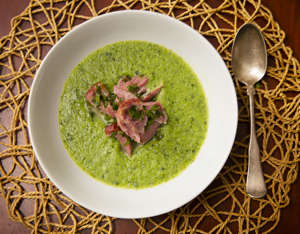 © Getty Soup made with fish heads Very cheap, and popular in pretty much every culture around the world (except our own), which means that there are many recipes to try. And they work so well with British cooking – great for roasting, and garnishing in a traditional manner. Mostly, though, the meat on a fish head is succulent and incredibly tasty.
Richard Foster, Chiltern Firehouse, London
Nutritional yeast
Brings a real depth of flavour to anything you add it to. I usually just toast it in a pan with some butter, then add to a chicken dish, for example – it makes the chicken taste more meaty – a ragout or some roasted mushrooms.
Tom Barnes, Rogan & Co, Cartmel
Brown rice miso
Available in supermarkets. I add it as a seasoning to tomato pasta sauce or chicken broth. I'll use it with soy to season rice cooked in shiitake mushroom broth for a quick meal after work.
Ollie Templeton, Carousel, London
Gallery: The world's most incredibly expensive ingredients [Lovefood]