Gordon Ramsay: 13 things you didn't know about the British chef on his birthday

Evening Standard
08/11/2018
From Michelin-star success to scathing TV comments, the mark Gordon Ramsay has made on the culinary world is undeniable.
Born in Glasgow in 1966, few would have guessed that an aspiring footballer would go on to be one of the most famous and celebrated chefs in the world.
The star's birthday falls today, on November 8, so to celebrate we've rounded up his greatest achievements alongside some unexpected facts, from his favourite late-night snack to his dream dinner date.
Download the Microsoft News app for your Android or iPhone device and get news & live updates on the go.
He can't stand dinner parties
In an interview the Michelin-star chef admitted that he hates going to dinner parties because he often can't stand the food that he's presented with. In 2011 he told the Mirror: "I really try not to go — mostly because I can't sit there and pretend everything's delicious when it's not. The food is so often s***. It's just too hard to be diplomatic." Classic.
He ranks third for most Michelin stars
Ramsay's triumphant career has seen his restaurants gain 16 Michelin stars, with his debut site Restaurant Gordon Ramsay holding onto three Michelin stars since 2001. Currently his restaurants hold seven stars. Overtaking Ramsay is the late Joël Robuchon, who received more than 30 stars followed by Alain Ducasse at 21.
Ramsay says losing a Michelin star is like "losing a girlfriend"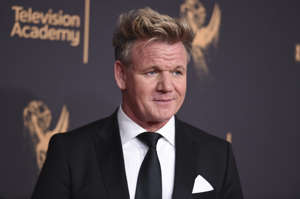 © Getty Gordon Ramsey Following the loss of two Michelin-stars at his New York restaurant Gordon Ramsay at The London, on the Swedish/Norwegian talk show Skavlan, the fiery chef compared being stripped of the accolade to "losing a girlfriend" and "losing the Champions League."
He won't touch plane food even though he cooks it
Despite owning a restaurant in Heathrow airport called Plane Food, Ramsay famously revealed he would never eat anything served on an aircraft. He told Refinery 29: "There's no f****** way I eat on planes. I worked for airlines for ten years, so I know where this food's been and where it goes, and how long it took before it got on board."
The Trump election result ruined his 50th birthday...
Ramsay celebrated his half century on the night of the US presidential election at a three-Michelin-starred restaurant in San Francisco. On the Trump result, he told the FT: "it completely f***ed my dinner. I've never seen a dining room f***ing curdle and go so silent in all my life. At the beginning of the dinner it was looking like Hillary, and by dessert they had a new president. It was a shell shock."
His dream dinner date would have been Princess Diana
He told the Mail his ultimate dinner date would be Lady Di. He said: "I was very fortunate to cook for her at Aubergine back in the early days. When she came in she was so normal. No airs and graces, security outside, she had the lunch menu and didn't go a la carte." She ate the pressed leek terrine to start followed by a sea bass.
Marco Pierre White is the living person he hates most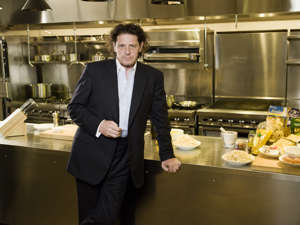 © Getty Marco Pierre White The shouty chef has broadcast his rows with a whole host of celebrity faces — most famously his former mentor Marco Pierre White. Ramsay told the Mail that White is the person he hates the most in the world. Recalling a time when he was working in the kitchen at Harveys, Ramsay said in the interview that he was trying to get past White but he elbowed him and said, "You're like dog s*** – always in the middle of the road." Since then the pair have had a series of bad run-ins, including when Ramsay showed up to White's wedding with an uninvited camera crew.
Also in Ramsay's bad books is Marcus Wareing. The two chefs fell out over a dispute over the Ramsay-owned but Wareing-run restaurant Pétrus located at The Berkeley. Wareing has since admitted to the Sunday Times he engineered the rift to so he could set up a restaurant on his own.
Similarly Ramsay has an ongoing fight with Jamie Oliver which started when the Naked Chef publicly slated Ramsay for mocking the appearance of Australian journalist Tracy Grimshaw. Ramsay retaliated calling Oliver a "one pot wonder." The pair have bickered ever since.
He's not totally against Brexit
In an interview for City A.M. in 2016 he said Brexit will have advantages for chefs, businessmen and customers. He stated: "Brexit is going to give every country the freedom to become a little powerhouse, individually. It will make countries reinvest locally. It may seem tempestuous to begin with, the jeopardy of not being part of the European safety-net."
He wants Russell Crowe to play him in a film of his life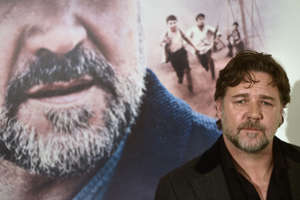 © Getty Russell Crowe Ramsay told the Mail that Crowe's fiery and passionate qualities would match up well to his own and that he likes that Crowe is "educated rough".
He once kicked out AA Gill from his restaurant
Ramsay is known for having an ambivalent attitude towards restaurant critics. He famously chucked out AA Gill from Restaurant Gordon Ramsay in 1998 — along with Joan Collins — in retribution for a previous Aubergine review.
Some of London's best chefs trained under him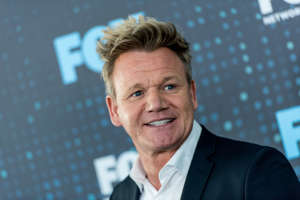 © Getty Gordon Ramsey London is a hotbed of culinary talent and some of the biggest chefs of the moment had Ramsay as their mentor. Angela Hartnett, Jason Atherton and Clare Smyth are just a few names to train under him — the latter was also the first female chef to run a triple Michelin-star site (Restaurant Gordon Ramsay) in the UK.
His restaurant empire started out because he was really angry
At 27 years-old, Ramsay secured the title of head chef at Marco Pierre White's restaurant Aubergine. But, a row over contracts and the future direction of the business resulted in the sacking of Marcus Wareing at sister restaurant L'Oranger and led to Ramsay orchestrating a walkout of the entire staff of both L'Oranger and Aubergine, and soon after he resigned. Following the outburst, he opened his debut site Restaurant Gordon Ramsay on the former site of La Tante Claire.
His late-night snack is baked beans
The Michelin-star chef told Bon Appetit that beans on toast would be his late-night snack of choice — complete with chilli flakes, Tabasco, hot sauce and a rich duck egg. Perhaps not so humble, after all. 
Gallery: The most decorated Michelin star chefs in the world [StarsInsider]