Healthy(ish): Can We Please Talk About...The Joy Of A Packed Lunch?

Grazia
09/02/2019
Are you bored of walking into your local café/supermarket and grabbing the same sandwich every day? Have you tried most foods on the menu at Pret and know how many calories there are in an avocado and falafel flatbread? Does the chocolatey coconut bite always slip itself into your bag against your will? Then may I suggest bringing your own lunch into work instead.
There is something immensely satisfying about eating a lunch you have made yourself. And not only will you know exactly what's gone into it, but it will also stop you reaching for the packet of salt 'n' vinegar crisps winking at you from the counter. It may just slim down your cash expenditure, too. For the record, if you ate a Pret Tuna Niçoise Salad, £3.99, a latte at £2.45, and a packet of popcorn, £1.30, five days a week for 48 weeks of the year, it would total £1,857.60, which is staggering.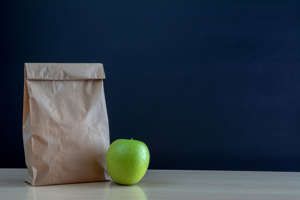 Now, I know what you're thinking – 'I don't have time in the mornings to make lunch' – but, according to fitness and nutrition expert Louise Parker, it's not necessarily about making a quinoa salad and herb dressing at 6.30am. 'It needn't be a faff,' she says. 'We often coach clients to cook up double in the evening and take leftovers into work, or batch cook recipes that last and travel well, such as frittatas.' (There's a very tasty Greek salad frittata in her new book, Louise Parker: The 6 Week Programme.)
While salads are presented as the healthiest of lunches, they might not be the best option for this time of year. Healthy chef and author Jasmine Hemsley says she's more of a soup/stew/dhal/kitchari kind of girl (kitchari is an Ayurvedic recipe made of two grains, such as lentils and rice, with spices – there's a recipe in her book East By West). 'They are quick, easy, cheap and perfect for a cold day,' she says.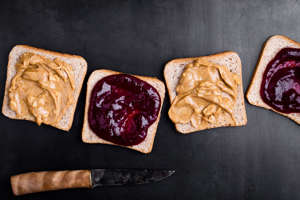 I'm a fan of soup myself; one of my favourites is butternut squash and ginger, which I make a huge batch of and eat over the course of the week. The recipe is so easy – sweat an onion, then peel, core and chop a butternut squash. Add both to a saucepan and cook for about five minutes. Add fresh grated ginger, a stock cube, season, and cover with hot water. Boil until everything goes so , then blend.
Packed lunches do come with transport issues – no one wants to get to work to find a sea of tomato soup in the bottom of their bag! The right lunchtime kit is key. Personally, I'm not that keen on a flat lunch box, because they can fall over and leak. For me, a cup-shaped one is the way forward. Try the Black & Blum Lunch Pot (£19.95) – two watertight pots with a cutlery holder. Their stylish Food Flask (£29.95), is also perfect for warm food, keeping it hot for up to six hours.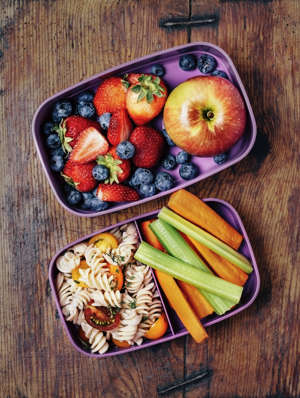 The only hazard of having your lunch with you is trying not to eat it before 12pm. If you don't cave in at 10.30am (a friend of mine always did and then ate another lunch), I promise the wait will be worth it.
Follow Susannah @susannahtaylor
Related: Weird food combo's that actually work [Gourmandize]