Instagramming Your Food Could Help You Eat Healthier

SheKnows
05/05/2017
© Getty Images Research shows that sharing photos of your meals could help you make better food choices Many of us get the urge to whip out our phones at the table when we're about to dig into an especially epic pasta dish or amazing cheese board (possibly to the groans or eye rolls of our dining companions). But it turns out that posting food photos to social media platforms like Instagram could have a real health benefit. It might help you make better-for-you eating decisions according to a recent study by researchers at the University of Washington.
The researchers discovered that for many people on a diet, social media works as a form of food diary in the way you might use online support groups or apps like LoseIt or MyFitnessPal. They interviewed 16 people who often posted photos of what they ate on Instagram using hashtags like #FoodDiary or #FoodJournal.
Download the Microsoft News app for your Android or iPhone device and get news & live updates on the go.
The scientists found that logging meals on Instagram kept people honest, but also was a way for their friends and social media followers to offer encouragement to keep at it with the healthy choices. And unlike diet tracking apps, you can't underestimate portion size or ingredients because it's right there in front of you.
Sure, a picture speaks volumes, but still, can't people self-edit and choose the story they want to tell? In other words, isn't it likely that plenty of us just don't post or tag those photos that we don't want to be accountable for just like in any other food diary?
Yes, say the researchers, but we'll still know what we're doing. "When you only have one data point for a pizza or donut, it's easy to rationalise that away as a special occasion," senior study author Sean Munson, assistant professor of human-centered design and engineering at the University of Washington, told Science Daily. "But when you see a whole tiled grid of them, you have to say to yourself, 'Wait, I don't actually have that many special days.'"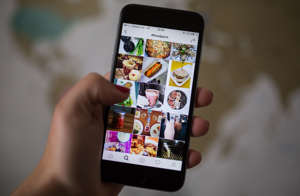 Accountability is key for making healthy life choices. Our plans to eat better or drink less may go a lot better if supportive friends, family and co-workers are on our side. "Social influences can be very helpful in accountability of food intake," says Stephanie Greenspan, a registered dietitian practicing in Bergen County, New Jersey. "Any format in which an individual can make eating more mindful is useful in making healthy selections, whether it's through support groups in person, or receiving that support from a social media forum."
But maybe it's more than that. Does cooking and taking photos of the resulting meal give us a healthy and imaginative outlet in our stressed, busy lives? "There's a lot of research that connects creative expression with well-being," says Rebecca Lewis, in-house dietitian at HelloFresh. "When we're stressed, we need a fun outlet to express ourselves and release tension. Cooking allows expression of openness and curiosity about ingredients, recipes, and new cooking techniques — which are important components when we're making healthy lifestyle changes."
Of course, psychologically, we want to project the best versions of ourselves. "Posting on social media provides an outlet for feelings of approval to be communicated," says Lewis. "In turn, this keeps home cooks more motivated to keep cooking at home." So, unless your friends and followers are going to give you thumbs-ups, likes and encouraging comments in return for your photo of that gorgeous salad you're about to scarf, this food-logging technique may not be for you.
Related: 15 foods that help relieve pain