Paul Hollywood's most disgusting recipe yet: lamb's blood meringue

The Telegraph
21/04/2017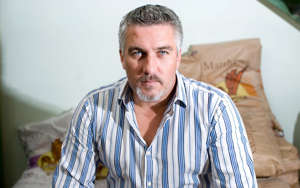 © The Telegraph Paul Hollywood Great British Bake Off star Paul Hollywood will shock viewers by eating a meringue using lamb's blood.

Hollywood, 49, makes the "delicacy" during a visit to Iceland for his Food Network show City Bakes.
The blood is used as a substitute for egg whites in the dish, which also includes herbs and is served with yog­hurt.
© The Telegraph Meringue with lamb's blood Hollywood said: "Actually it tastes like a sweet meringue. You wouldn't know it was blood in there.

"The blood meringue is delicious. I can't believe I'm saying that."
During the same episode, he is also given a huge cod head that is sweetened with seaweed.
© The Telegraph Paul Hollywood trying the Icelandic delicacies Before tasting the dish the baking supremo admits it is "hideous" looking, but later insists: "It melts in the mouth.

"I am really shocked and it's not often that I'm lost for words."
He insists: "It's beautiful. I'm really shocked."
© The Telegraph Paul Hollywood with a cod's head It was also reported by The Sun that Hollywood refused to eat several dishes, such as offal and a calf's tongue and nostril, on the same show.

Hollywood is currently working on the Bake Off for Channel 4, after the show moved from BBC One.
The show is keeping its old format of signature, technical and showstopper bakes, and the famous tent will remain unchanged.
But Mel Giedroyc and Sue Perkins are being replaced by Sandi Toksvig and Noel Fielding, with Prue Leith in place of Mary Berry.

It was also confirmed today that Jo Brand has followed the show to Channel 4, and will present the spin-off programme The Great British Bake Off: An Extra Slice.
"As a completely mediocre baker myself, but lover of all things spongey and tarty, I am really looking forward to another Extra Slice and all the fun and frolics it brings," she said.
Paul Hollywood, the only member of the original team to stay loyal to programme-makers Love Productions, has been rewarded with a new five-part baking series of his own.
A Baker's Life "will allow viewers to get to know the real Paul Hollywood".

Hollywood will visit the kitchens that inspired him and the chefs who taught him as the programme traces his life story from his father's bakery business to the five-star hotels where he worked before joining Bake Off.
Five facts about | Paul Hollywood
1. Paul Hollywood originally trained as a sculptor until his father (who was a baker) persuaded him to change careers.
2. He is a Master Baker and has worked in some of the most exclusive hotels in the world including the Cliveden, The Chester Grosvenor and The Dorchester.
3. His best-selling book, 100 Great Breads, has been translated into seven languages and was named as the Top Bread and Pastry Book of the 2005 Gourmand World Cookbook Awards.
4. In 2008 he created the most expensive bread in Britain - an almond and Roquefort sourdough that was sold for £15 a loaf at Harrods.
5. Outside the kitchen, Paul is a keen amateur racing driver. He made his competitive racing debut in 2015.
Related: Here's everything you need to know about 'The Great British Baking Show,' the most addictive cooking show on TV (Provided by INSIDER)
Here's everything you need to know about 'The Great British Baking Show,' the most addictive cooking show on TV