Recipes for success? We put cookbooks from top chefs to the test

Evening Standard
4 days ago
Ovens at the ready: it's officially cookbook season. This week has seen three releases from some of the city's top chefs, and more are coming.
St John is promising 100 new nose-to-tail recipes next month, while Fergus Henderson, the founder of St John in Smithfield, also penned the foreword to Lee Tiernan's Black Axe Mangal book, out in November. It will be followed by comforts from the Quality Chop House.
So how hot is it in the kitchen, really? Here, three of the Evening Standard's feature writers see if they can swap their pens for pans.
Dishoom's Bacon Naan
My first attempt at Dishoom's famous hangover cure ends up, shamefully, in the bin. It was going so well — until I got distracted while my flatbread was in the pan. It turns out that it takes less than a minute for your lovingly mixed, kneaded and rolled piece of naan to end up more like charcoal pizza.
To be fair, I didn't have a tandoor oven to hand, having to make do with the grill rack of my gas oven. But Dishoom's signature breakfast has a cult following and I was eager to try making it, more for bragging rights than efficiency. The process takes about three hours, after letting the dough rest. That's longer than any queue to get into Dishoom.
The dish tastes decidedly better fresh out of the oven so I was forced to cut corners for my second attempt to avoid being late to work.
Thankfully, I was saved by a two-for-one naan deal in Sainsbury's (but no fancy Ginger Pig rashers for my bacon filling). The time-saving paid off: "Yours is better," my office deskmate told me in a blind taste-test, noting the thickness of my naan against Dishoom's rather-more crêpe-like offering. I'd also made up for my corner-cutting by maxing out on fillings, with generous amounts of cream cheese, tomato-chilli jam and coriander.
So it was a part success, then — what my colleague doesn't know surely won't hurt him.
Dishoom: From Bombay With Love, out now, £26, bloomsbury.com
Katie Strick
Romy Gill's Jackfruit Sabzi
In India, vegan food isn't a trend, a point soon-to-be Ready Steady Cook chef Romy Gill makes matter-of-factly in her new plant-based cookbook, Zaika. I thought I'd give it a go.
I am, at best, an intermediate cook — I'm still faintly impressed when I make something edible and talk about it for a week if it's actually good. Happily, most Zaika recipes seemed manageable, and I plumped for a jackfruit sabzi — like many, I'd eaten the so-called meat substitute but never cooked it. Gill says it can be bought in a tin, so how hard could it be?
Harder than she makes out. Jackfruit is still pretty tough to find. I could only see one can in the remarkably well-stocked South Asian grocery store nearby, and so, "Young green jackfruit in brine" it was to be — a riper version would probably have taken less pummelling to soften.
Related news: Romy Gill's spiced turmeric ghee (Independent)
Most of the other ingredients needed were the stuff of standard spice racks but black mustard seeds and amchoor (mango powder) required a fair amount of foraging.
Kashmiri chilli powder was a write-off. In the end, the paste was a subtly woven, warming blend — it wasn't bad at all. Would have fared better without the hastily chosen jackfruit, though. It was, in the end, just a bit, well, briney.
Zaika, out now, £20, orionbooks.co.uk
Ailis Brennan
Monica Galetti's partridge with chestnut crumble
Ben Tish is a busy one. Today he opens the Sicilian-Moorish Norma in Charlotte Street, and tomorrow Glorious Game drops. He's pulled together 100 recipes from the UK's finest chefs, which champion game for its sustainability and healthiness, getting away from its toffy reputation.
Sort of. Having misplaced my sous-vide machine, that old household favourite, Jason Atherton's venison was out. Former Fera chef Dan Cox threw me with his opening recommendation, "Hang the deer in the meat-ageing fridge with the fur on for three weeks". I had one afternoon in total, and couldn't find a meat-ageing fridge anywhere, let alone one with the fur on.
I settled on partridge with a chestnut crumble from MasterChef Professionals judge Monica Galetti, knowing how well she does game at her excellent Fitzrovia restaurant, Mere. My local supermarket is a Co-Op with the same dimensions and stock as an empty handbag, so I journeyed 20 minutes to bankrupt myself in Waitrose instead. One bargain: the recipe for four calls for just three Brussels sprouts.
Gallery: Autumnal foods: Produce to try as the season changes [Photos]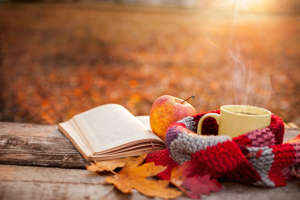 This is a book for serious cooks, with a fair bit of know-how needed and few timings provided. Some instructions, such as the call to "reduce to a good consistency", are only marginally more helpful than telling me to pack it up and order in.

Elsewhere in the book, other advice, like former Bibendum man Simon Hopinkson's tips for roasting grouse, can be counted as life lessons – even if a touch, well, out of touch ("have your game dealer eviscerate two immaculately plucked young grouse…").
Related news: Inspired by Bake Off? Five cookbooks for novices (Huff Post)
But how was my partridge? Fine. I didn't eviscerate the meat, which was good. We ate in silence. Not out of joy, you understand, but because by the time I'd fiddled with the sauces and purées, our 8.30pm supper was a 10.15pm snack. A tense one. 

Glorious Game, out Sept 12, £40, facepublications.com
David Ellis
MSN UK is committed to Empowering the Planet and taking urgent action to protect our environment. We're supporting Friends of the Earth to help solve the climate crisis - please give generously here or find out more about our campaign here.