See David Beckham's £250 wine bottle opener

Hello!
16/06/2017
© Provided by Hello Magazine UK Hello! Magazine David Beckham has proved himself to be an unlikely wine connoisseur after sharing a photo of himself enjoying an al fresco glass of wine on Tuesday evening. The former footballer took to Instagram Stories to post a snap of his tipple, showing that he had used the unique Coravin wine system to pour a glass of white wine without pulling the cork.

The gadget costs around £250 and features a unique pouring needle which allows wine lovers access to their bottle without cork damage, meaning a bottle can be enjoyed slowly by the glass over weeks or months, rather than spoiling within a few days as wine typically does.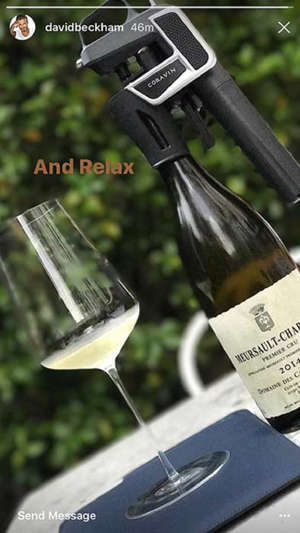 © Provided by Hello Magazine UK David Beckham showed off his Coravin wine opener/Instagram It is particularly handy for people who are drinking special or vintage wines that they don't want to consume within a couple of days. In David's case he was sipping on Meursault-Charmes Premier Cru white wine from 2014, which costs over £100 per bottle. It is said to have "notes of orchard fruits, hard candy, crushed rocks, white flowers and a hint of fresh butter" and is ideal for David to enjoy served chilled during the beautiful summer weather in London.

David is a big wine lover, and reportedly bought a vineyard for wife Victoria in the Napa Valley region of California while the family were living in Los Angeles in 2008. The family apparently have no plans to market the wine, unlike other stars like Angelina Jolie who launched Miraval Rosé wine with ex-husband Brad Pitt, or Drew Barrymore, who owns Barrymore Wines.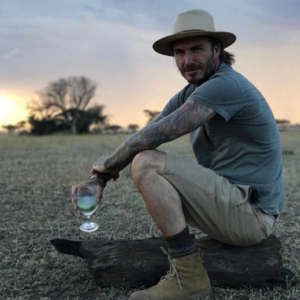 © Provided by Hello Magazine UK David is a big wine lover and owns a vineyard in California However David does have a partnership with another alcohol brand – Haig Club Whisky – which he was involved with developing and is the face of. The father-of-four has previously admitted he had always wanted to be a whisky drinker, which is part of what led him to work on the partnership. Speaking to GQ, David confessed: "It's one of those things that when I sat down with the guys at Diageo, I said I really want to be a whisky drinker. I really want to be that person!"
Related: Are You Holding Your Wine Glass the Wrong Way (Provided by Food & Wine)