Why it's about time you started drinking Georgian wine

Evening Standard
07/11/2018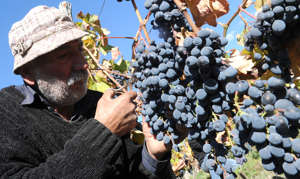 © Getty Vineyard in Georgia Natural, funky, interesting wine is still flowing through London at speed, sousing the 'gramming customers at every concrete-washed bar and seasonal British restaurant worth its house-pickled elderberries. But if you really want to prove your cool credentials, you need to look to Georgia. Wine from the Eastern European country isn't new — in fact, it's some of the oldest in the world — but by Georgia, it suits our palate for the orange stuff right now.
Download the Microsoft News app for your Android or iPhone device and get news & live updates on the go.
Lucy Hewitt started her Georgian wine importing company, Proper Natural Wine, last year after spending a few months working with natural winemakers in Georgia and falling in love with the stuff, which is rather romantically fermented underground in giant terracotta pots known as qvevri. The 'proper' refers to the heritage of Georgian wine — 'they were the first country to make wine 8,000 years ago, so technically Georgians are the OGs' — although the slangy nature of 'proper' also refers to Hewitt's desire to make her funky orange booze accessible.
It's a noble mission: while Georgia was renowned for its wine up to the mid-20th century, under Soviet rule, most Georgian grapes were used for bulk wine. Then after the collapse of the USSR, the wine industry imploded, as farmers stopped growing grapes in order to produce cheap sustenance crops. But as Hewitt says, 'if you've ever been to Georgia, you'll know how important wine is to them. It's basically their religion.' Add in the oh-so interesting native grapes with seriously unique flavours, and the lovely fact that it's known as 'amber' wine rather than Trumpian orange, and really it's our duty to drink Georgia back to vinous health.
Start at the hottest restaurant in town, Brat, where the Noble Rot-curated wine list includes a bottle of amber Orgo, which flows like lava into the glass. Made from Rkatsiteli grapes by a father-and-son team in Kakheti, the biggest wine producing region in Georgia, it somewhat bizarrely tastes almost like a chilled red. It's also bloody gorgeous, all salty apricot and elusive earthiness and ideal with Brat's incredible cod roe and anchovy bread. Up in Haggerston at Berber & Q, there's more Rkatsiteli from Pheasant's Tears, a winery founded by American painter John Wurdeman, for swilling with your shawarma. Meanwhile, down in Marylebone, there's the natural, unfiltered Okros from east Georgian producer John Okruashvili at Jikoni.
Hewitt's personal favourite is an orange Rkatsiteli from Kartli in southern Georgia. 'A lovely man called Zaza makes around 5,000 bottles a year and is an ex-engineer, so we're talking high precision here. It tastes like cinnamon and white-pepper-baked peach. Georgia in a glass.'
Gallery: The best wine to pair with any meal [StarsInsider]