Chef's hack for fuss-free kids' snacks is going viral

Yahoo! Style UK
21/03/2019
A chef's simple recipe for quick on-the-go snacks for children's group celebrations is being praised online for helping to make parenting that little bit easier.
By way of a response to an article by satirical website The Onion, celebrity chef Adam Liaw came up with a simple yet tasty school-approved snack that time-poor parents can conjure up when they need to provide celebratory food for their kids seemingly endless functions.
The article perfectly captured the stressful situation many parents find themselves in when asked to provide party snacks for events at their children's school, cubs, brownies…and on.
And finding himself in a similar position now that his own son has started school, the chef took it upon himself to help out. 
"No kidding, but my son has been as [sic] school for exactly ONE TERM and this has already happened about 9 times," he wrote before promising he'd come up with a fuss-free, child-friendly snack to help
I am going to write a recipe for something that you can make 25 portions of in 5 minutes that can keep unrefrigerated for 8 hours and contains no dairy, nuts or eggs. I don't know what it is yet but I will make it work for the good of us all.

— Adam Liaw (@adamliaw) March 20, 2019
It will also fit in a standard Tupperware, cost less than $10 in ingredients, weigh less than 1 kg for transport, and be able to survive a bus ride in a school backpack without destroying its integrity. I GOT YOU ON THIS PARENTS.

— Adam Liaw (@adamliaw) March 20, 2019
OK, this is what I came up with this afternoon – Fat Pocky. pic.twitter.com/7l9goboohr

— Adam Liaw (@adamliaw) March 21, 2019
The chef went on to explain the ingredients parents would need for the chocolate covered breadsticks along with a quick recipe that parents can easily follow.

For anyone looking to make the choco dipped snacks, you'll basically need breadsticks, dark chocolate and cake/ice-cream topping-style sprinkles.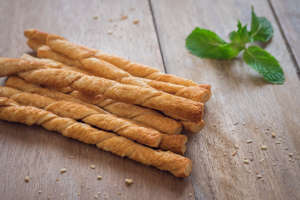 © Getty Bread sticks on old wooden table "Just microwave the chocolate for 1 minute, then blasts of 30 seconds until it's melted. Probably 3-4 minutes all up," he writes. 
"Put the chocolate into a glass and the just dunk the bloody things in there."
See, simples!
This is where you end up after about 10 minutes of dunking and sprinkling. Of course, if you get the kids to do them themselves this will take YOU zero minutes. You can even make them fancier if you want. For example… pic.twitter.com/UrkxE7lIKL

— Adam Liaw (@adamliaw) March 21, 2019
Here are some that look like people. They sell these in the baking aisle of a regular supermarket like it's no big deal. pic.twitter.com/WAiX6hcpah

— Adam Liaw (@adamliaw) March 21, 2019
And parents were quick to show their appreciation to the chef for making their lives that bit simpler.
OMG too funny – Parents everywhere are loving you even more right now @adamliaw – BTW Happy #HarmonyDay – @brettelockyer@rmckean read this thread pic.twitter.com/0Hw8DewyZl

— Maree🌏 (@mareewhiteley) March 21, 2019
This is hilarious and useful at the same time. You've earned a follow. You are brilliant.

— Kath (@mopeng) March 21, 2019
The snack hack comes as experts have revealed concern about how healthy children's snacks are.
Last year Public Health England (PHE) revealed that on average children are consuming at least three unhealthy snacks and sugary drinks a day, with around a third consuming four or more.
That means the average child can easily consume three times more sugar than recommended with the PHE warning that half of children's sugar intake – around seven sugar cubes a day – comes from unhealthy snacks and drinks.
Following the revelation the Government issued a warning to parents to limit children to two snacks of no more than 100 calories per day.
But what does a healthy snack look like?
Snacks containing no more than 100 calories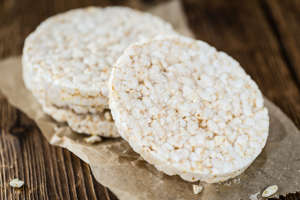 © Getty Some Rice Cakes (close-up shot) on an old wooden table

Soreen malt lunchbox loaves (apple, banana or original malt)
Petits Filous fromage frais (strawberry and raspberry, strawberry, strawberry and apricot, strawberry and banana)
Fruit Shoot hydro water in apple and blackcurrant flavour
Fresh or tinned fruit salad
Chopped vegetables and lower fat hummus
Plain rice cakes or crackers with lower fat cheese
Sugar-free jelly
One crumpet
One scotch pancake
Source: Public Health England via BBC
PHE's Top tips for snack time
Keep it in easy reach– have a fruit bowl in the house so fruity snacks are nearby when your kids are peckish.
Fill the fridge– have ready-to-eat fruit and veg, like carrot, cucumber, celery and peppers, pre-prepared for an easy snack kids can eat with their fingers.
Pack a snack– save money, and time, when you're out and about by taking bananas, apples or chopped up vegetables with you.
Get the kids involved– try making snack time exciting and more hands-on. Get your child involved by getting them to chop up the fruit and vegetables they're going to eat, they'll love chopping it up themselves!
Gallery: 24 Healthy Recipes You'll Never Know Were Made With Frozen Produce [Cheapism]