Classics Revisited: Bellamy's, the Queen's favourite restaurant where French food has a posh English accent

The Telegraph
15/04/2019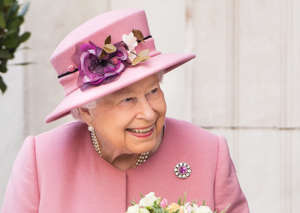 © Getty LONDON, ENGLAND - MARCH 19: Queen Elizabeth II visits King's College London on March 19, 2019 in London, England to officially open Bush House, the latest education and learning facilities on the Strand Campus. (Photo by Samir Hussein/Samir Hussein/WireImage) In the recent storm in a coffee cup swirling around the £15 cup of Joe served at Le Café Alain Ducasse, the news that Le Chocolat Alain Ducasse next door is selling 3kg chocolate bars for £160 seems to have passed unnoticed. Do you love anyone enough to give them your last chunk? 
The Monsieur Ducasse bars are definitely not me. Instead, I'm with Gavin Rankin, the proprietor of Bellamy's on Bruton Place, who is usually to be heard intoning "never underestimate the power of cheap chocolate" as he cheerfully plonks down a glass of Galaxy Minstrels next to the café au lait.
As the old Galaxy tagline used to ask, 'Why have cotton when you can have silk?'
I suspect that it is unpretentious touches like that which explain why Bellamy's is the only London restaurant that the Queen has ever dined at.
I used to think the reason was because she was born around the corner at 17 Bruton Street and, like the natal homing that compels a salmon to return to the river of its birth, Her Maj felt an instinctive affinity with this corner of Mayfair.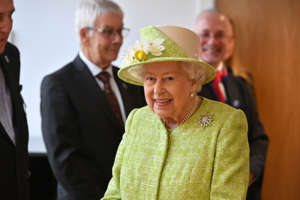 © Getty BRUTON, ENGLAND - MARCH 28: Queen Elizabeth II visits King's Bruton School where she will mark the School's 500th anniversary and open the new music centre on March 28, 2019 in n Bruton, Somerset, England. (Photo by Ben Birchall - WPA Pool/Getty Images) But then I found out that the Queen's first visit to Bellamy's, in 2006, was to celebrate the 90th birthday of Lady Penn, one of the Queen Mother's ladies-in-waiting.
And being just as susceptible to a friend's recommendation as the rest of us, the Queen came back 10 years later, this time with Princess Anne and Princess Alexandra in tow. Did they split the bill three ways on their Coutts cards? Rankin is far too much of a gentleman to say.
Bellamy's probably isn't due another royal visit until 2026 but if you're in the mood to celebrate the Queen's birthday on 21 April you couldn't find anywhere with a more authentic seal of regal approval.
Professional and personal expenses, alas, not extending to the 25g of oscietra caviar that the Queen kicked her meal off with, I dived straight into her next course, a starter of smoked eel mousse.
Glossily textured and gently flavoured, it is served with five lightly bronzed slices of Melba toast, like a high-class canapé.
The rather plain-looking Dover sole with oil and lemon that a pinstriped gent was tucking into on the next table put me off ordering the Queen's favourite fish, although it's precisely the sort of no-frills cooking that means Bellamy's has a clientele of regulars who eat here at least once a week.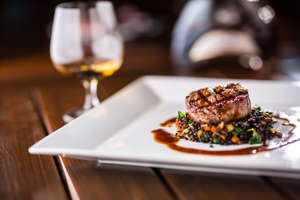 © Getty Beef Steak. Grill beef steak black lentils mixed with vegetable. Cognac or brandy as drink. Culinary food in hotel pub or restaurant. Instead I ordered steak, a crosshatched entrecôte with crunchy frites to dunk into a Béarnaise as thick as custard, though the star side dish was a beautifully crisp salad of perfectly dressed lettuce hearts.
Elsewhere there is avocado vinaigrette, brill with red wine butter, rhubarb crumble with crème anglaise and a chocolate cake made by Rankin's gym-going 86-year-old mother Marina.
It's French food with a posh English accent and the good British manners to be welcoming to all pockets. You might start with iced lobster soufflé and follow with magret of duck with sauce Porto.
Or you could drop in for the three-course table d'hôte for £39.50 or lunch of a potted shrimp toastie for a tenner at the oyster bar, which transforms into a swish cocktail rendezvous at night.
This approachable exclusivity is one reason Rankin calls his restaurant "a club without a sub", and having worked as managing director of Mark Birley's clubs (including Harry's Bar and Annabel's) before opening Bellamy's 15 years ago, he knows what makes Mayfair locals feel at home.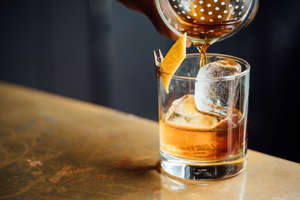 © Getty Closeup Glass with Alcohol in Cocktail Bar The atmosphere is another. If it's looking like a quiet week for bookings, Rankin will replace a table with a baby grand piano and host cabaret nights.
But Parisian brasseries are just as much of an inspiration as London members' clubs. Rankin and his designer Tim Flynn went on a pilgrimage to France to bring home the essence of the perfect brasserie, installing vintage posters and ink-coloured banquettes, flattering table lamps and kindly angled mirrors.
Bellamy's name is a homage to the gentleman's club in Evelyn Waugh's Sword of Honour trilogy but also a pun on 'bel ami', French for 'handsome friend'.
Just like the Queen, sometimes you need a friend in Mayfair to show you the pleasure to be had in dining out.
Who to take
Someone who deserves a meal fit for a queen.
What to order
125g of Oscietra caviar at £250 is suitably regal.
Bellamy's, 18 Bruton Place, London W1J 6LY; bellamysrestaurant.co.uk
Sign up for the Telegraph Luxury newsletter for your weekly dose of exquisite taste and expert opinion. 
Gallery: The surprising foods the royal family loves to eat [Lovefood]