How to make porcini mushroom and sweet potato risotto

The Independent
16/04/2018
© Provided by Independent Digital News & Media Limited This kale and mushroom take on the Spanish classic hits the spot every time
Porcini mushroom and sweet potato risotto
Serves 2
10g dried porcini mushrooms
1 red onion
1 tbsp oil
210g edamame beans (drained)
2 garlic cloves
2 tsp sunflower seeds
300g sweet potato
40g kale
80g quinoa
Related: 3 Methods For Making Matcha (provided by POPSUGAR)
Preheat the oven to 200C/gas mark 6 and boil a kettle. Place the porcini mushrooms in a bowl and add 100ml boiling water, leave for 20 mins. Meanwhile, finely chop the garlic and onion. Peel and cut the sweet potato into 1 cm pieces. Roughly tear the kale.
Place the sweet potato on a baking tray, sprinkle over a pinch of sea salt and drizzle over 1 tsp oil. Place in the oven for 15-20 mins, turning halfway through.
Boil another kettle. Heat a medium-sized pan with 1 tsp oil and cook the garlic and onion for 5 mins until softening. Rinse the quinoa and add to the pan with the onion. Stir for 1 minute. Pour in 200ml boiling water, season with sea salt and black pepper and simmer until the water has been absorbed. Then add the porcini mushrooms in their water to the pan. It should take 15 mins for the quinoa to cook. Add more boiling water if needed.
Drain the edamame beans and stir into the risotto with the kale and cook for 3 mins. Spoon the porcini mushroom quinoa risotto into two warm bowls. Top with the roasted sweet potato and scatter over the sunflower seeds.
Recipe from Mindfulchef (mindfulchef.com)
Related: Stunning images from Pink Lady Food Photographer of the Year 2018 shortlist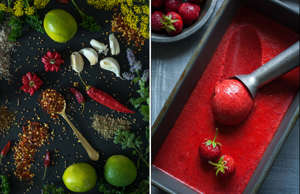 For more of the most popular News, Sport, Lifestyle & Entertainment on MSN, Follow us on Facebook, and on Twitter