Pancake Day Recipes: The Best Fillings For Kids As Chosen By Them (And Their Parents)

HuffPost UK
12/02/2018
© Provided by AOL Inc. Supplied Pancake day is a great opportunity for kids to get really creative in the kitchen and work with their parents to concoct delicious, mouth-watering fillings. 
If you rarely venture beyond lemon and sugar, you're in good company acc
ording to Rowan Davies, Mumsnet's head of policy and campa
igns, as the parenting community's users are "staunchly traditional".
But if you're keen to try other options this year, we've asked chefs and parents - from chef Tom Aikens to parent food bloggers - about what their child's favourite filling is and tips on how to make them. So take some inspiration from the eight ideas below. 
CHOCOHOLIC: Cocoa Crepes
Chef Tom Aikens, who is dad to Josephine, four, and Violette, six, told HuffPost UK: "Pancake fillings for kids are often on the sweet side, but there's nothing wrong with a little sweet treat every now and then, and making pancakes with kids is often a great way of getting them into cooking – cracking the eggs, measuring the milk, stirring the batter."
When it comes to his own kids, blueberry pancakes and chocolate crepes are the top of their lists.
"Of course they love chocolate, so I make a thin crêpe that has a little cocoa powder in the pancake mix and some chocolate sauce on top," he said. 
ARTY: Fruity Faces
Emily Leary, mum to JD, 10, and Jay, six, runs the A Mummy Too blog. Her kids loving the classic lemon and sugar, but they are also keen on fruit fillings. 
"Pancakes are like a blank canvas just begging to be decorated, so why not give the kids a selection of fruit and let them build their own edible designs, from pretty patterns to faces," she said.
"Or 'roll-up pancakes', where the children build a line of their favourite fruits down the middle of the crepe and then, you guessed it, roll it up! If cut into slices, this recipe is also known as pancake sushi in our house." 
SIMPLE: Butter And Sugar
Williams Guillemot, 48, is the head chef at modern crêperie, L'Ami Malo in Spitalfields. He is dad to Leon, 15, and Jamie, 10, who both love pancakes. You might expect a professional pancake maker to favour a complicated take on this classic, but his favourite recipe for his kids is simple.
"I make classic beurre sucre (butter and sugar) pancakes for my kids," he said. "They like simple ingredients and the rich butter and sugar is such a winning combination, allowing you to taste the pancake itself rather than being masked by a load of other toppings. Both brown sugar and caster sugar work well for this dish."
© Provided by AOL Inc. Williams Guillemot You can find a helpful guide to making this classic butter and sugar recipe here. 
Tips on pancake making: 

* Pour the liquid in slowly when making the batter so you don't get lumps.

* Always do a test run with the batter and throw away your first pancake. Your second is always better.

* Use good quality ingredients and in particular good butter for the beurre sucre.
SAVOURY: Ham, Egg And Cheese
Lucy Kellett, a mum-of-two who runs lucyloves.uk.com, said her son Ben prefers a savoury topping "every time".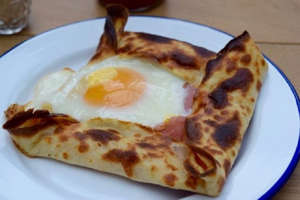 © Provided by AOL Inc "My boys and I love pancakes, but ham, egg and cheese pancakes are our new favourites," she said. "These savoury pancakes are quite irresistible. I can vouch for that as the folding procedure takes some practise and Ben and I ploughed our way through six in one sitting.
"Pure gluttony I know, but the combination of a crisp pancake with ham, melty cheese and a runny egg is really something to be revered." 
Find out how to make them here. 
FUN-FILLED: Splat Pancakes
Chef Kathryn Minchew has three kids aged 12, nine and five. She made a recipe called "splat pancakes" when her youngest, Toby, was too small to flip pancakes, but wanted to get involved. 
"Splat pancakes are a hit because while I can plan some Instagram-worthy breakfasts, sometimes he wants to cook and I want to encourage that," she said. "We always have these ingredients in, they only take a few minutes (the length of a small child's attention span) and they taste great with maple syrup."
You will need: two bananas, 100g flour, one egg and oil.
Mash the bananas with a fork, add flour and egg. Heat oil in a pan and use a spoon to drop spoonfuls of batter into the pan, then flip them over when the bottoms set.  
MORE EFFORT: Apple Pie Pancakes
Philippa Askham, 40, who blogs at Sweetpea Pantry is mum to two-year-old Jude and six-year-old Niamh. 
"With a bit more effort - but these do get devoured by our kids (and us!) - we make our Apple Pie Pancakes," she said. "Basically a delicious apple, cinnamon and maple syrup topping. And they have lots of protein, fibre and no refined sugar, so everyone's happy."
HEALTHY: Fresh fruit
"I prefer healthy options when it comes to pancake fillings for my little one such as fresh fruit or yoghurt," said Nadine, 31, who blogs at Then I Became Mum.
"Peach and raspberries go really well together. We like to roughly blend them with a touch of honey to sweeten them up. However, my little one's over all favourite pancake filling is a blueberry compote made with honey instead of sugar."
SWEET TREATS: Chocolate And Marshmallows
Holly Bell, who blogs at Recipes From A Normal Mum, said her three boys (nine, seven and three) are divided when it comes to pancake day.
"Middle son is anti anything even remotely sugary," she said. "So for him it's plain all the way, possibly with a side helping of ham.
© Provided by AOL Inc. HOLLYBELL "Eldest and youngest are another story altogether! Recent fillings have included Freddo frogs (melted in a nightmarish fashion), a sea of classic maple syrup and a kind of knickerbocker glory pancake creation: Nutella with a smattering of marshmallows, sliced bananas and ice cream."
© Provided by AOL Inc. Damian Wawrzyniak Another sweet option is milk chocolate, fresh raspberries and whipped cream as suggested by chef Damian Wawrzyniak, who is dad to Pola, seven, and Noel, six. "My kids love this filling, it's their favourite," he said.

Related: Failsafe pancake recipe (Provided by Mamamia)

For more of the most popular News, Sport, Lifestyle & Entertainment on MSN, Follow us on Facebook, and on Twitter