Revealed: the Christmas hot drinks with the highest calorie content

Evening Standard
08/11/2017
© Provided by Evening Standard Limited November is here, and with it a flurry of red cups, gingerbread syrup and marshmallows. It's time to swap the iced latte for a warming hot chocolate because yes, it's Christmas drinks season once more. 

Our favourite chain coffee shops seem to up their seasonal drinks game every year, bringing more extravagance, more choices and ultimately, more sugar to their menus - just as it gets colder.
While a festive coffee or hot chocolate seems like the perfect cosy treat, it's probably best not to have one every day. Why? Because all those delicious syrups and creams can send the calorie and fat content through the roof, with some accounting for nearly your entire recommended sugar intake in one cup.
We've crunched the numbers to lift the lid on which Christmas drinks should probably be a very special, once-in-a-while indulgence. And contrary to popular belief, Starbucks isn't the worst culprit for packing sugar into its drinks.
Costa's Billionaire's Hot Chocolate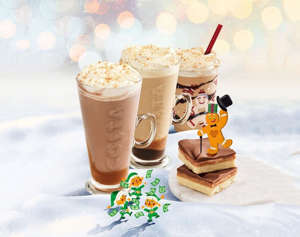 © Provided by Evening Standard Limited The Billionaire's Hot Chocolate, Latte and Frostino are among the most calorific festive drinks (Costa) As the only festive drink on all coffee shop Christmas menus to break the 600 calorie mark, a large sized cup comes in at 660 calories – more than a quarter of your recommended daily allowance (RDA), just in a drink. The sugar content is also shockingly high: at 78.9g of sugar a cup, that's nearly your whole 90g RDA in one go, equivalent to 3.3 Mars bars. Gulp.

If you're after a slightly healthier version, the Billionaire's Frostino – an iced frappe version of the drink – has 140 fewer calories, probably thanks to the ice.
Costa's Mint Hot Chocolate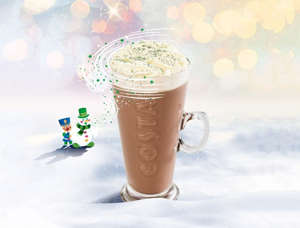 © Provided by Evening Standard Limited The Mint Hot Chocolate (Costa) Coming in close second is this minty customer favourite. At 556 calories a pop it contains about 50 more calories than a McDonald's Big Mac. And the sugar content is only marginally lower than the Billionaire's hot choc – 68.8 g, the equivalent of 4 Nutty Chocolatta Krispy Kreme doughnuts. 

Costa's Black Forest Hot Chocolate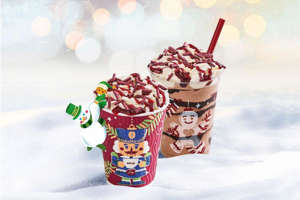 © Provided by Evening Standard Limited The Black Forest Hot Chocolate and Frostino (Costa ) The Black Forest hot choc is a classic Christmas staple, and such a fan favourite that Costa sparked outrage when it flirted briefly with a new recipe in 2016. Now back with the original recipe, the iconic beverage is probably worth the 528 calories and 60g of sugar. As the third unhealthiest festive drink, it's a very special treat. 

The Frostino version is slightly less calorie-heavy, but not by much. Coming in at 507 calories, it also contains 4 more grams of fat than its warmer sister, with 20g per cup.
Caffè Nero's Hazelnut Milano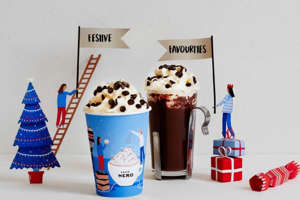 © Provided by Evening Standard Limited The Hot Chocolate Milano (Caffè Nero) This Caffè Nero special is thick, molten chocolate combined with hazelnut syrup. With 519 calories a cup and 49.3g of sugar, it's not as sickly sweet as some flavoured hot chocolates. But it is high in fat, with 25.6g a cup. The Clementine version is slightly healthier, at 500 calories a cup.

Starbucks' Gingerbread Coffee Frappuccino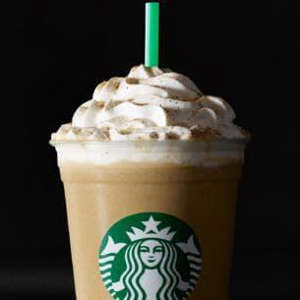 © Provided by Evening Standard Limited The Gingerbread Coffee Frappuccino (Starbucks) This is up there with the more calorific coffee-based festive drinks. At 471 calories it contains nearly 200 calories fewer than the most calorific hot chocolate, but its sugar content is still alarmingly high: 68.4g, or nearly three Mars bars. 

But it's not all doom and gloom
If you're finding this nutritional information disheartening, don't worry, there are plenty of Christmas drinks that come in at under 300 calories. Generally, festive coffees are a lower calorie option than hot chocolates. Try the Caffè Nero Clementine Latte for a 204 calorie treat, or a Starbucks Festive Cold Brew which is just 41 calories. 

And if you're worried about sugar intake but still want to enjoy the festive menu, why not opt for a smaller size cup?
Of course, it's perfectly okay to slurp on luxurious festive drinks, but if you're trying to cut down on the calories this Christmas, maybe make them a once-in-a-while extravagance.
Related: A shop makes gorgeous ice cream that looks like flowers (provided by Insider)
For more of the most popular News, Sport, Lifestyle & Entertainment on MSN, Follow us on Facebook, and on Twitter