The trick to making the perfect oven chips every time

Good Housekeeping UK
5 days ago
Once you master the secret to cooking perfect chips, you'll never want to buy shop-bought again. After all, oven baked fries are much healthier for you than the deep-fried version you might find in your local fish and chip shop or restaurant. Yes, the latter are delicious, but if you're wanting to make them at home more regularly, follow advice from our expert cookery team.
First up, it's all about using the right potatoes.
The key to the perfect chip, is to use a floury potato like King Edward or Maris Piper, and ensure they're cut into evenly sized, uniform fries. This means you'll get evenly cooked chips at the end, rather than the half frazzled, and half undercooked.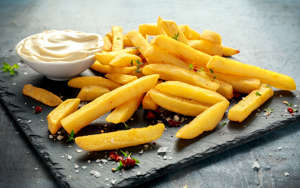 © Getty Homemade Baked Potato Fries with Mayonnaise, salt, pepper on black stone board. Then you should rinse them under cold water to get rid of starch before parboiling them in a large pan of well salted water. We recommend 3-5min, until they're just tender.
In the meantime you should pre-heat a baking sheet in a very hot oven – 220°C (200°C fan) mark 7 - with a couple of spoonfuls of oil. Make sure the oil is hot enough that potatoes will sizzle when added.
But before you go reaching for your trusty olive oil, don't! You want a light, neutral oil with a high smoke point like vegetable or rapeseed. However, if you like the flavour, dripping or goose fat are also great options.
Once you've drained your parboiled chips, we'd recommend arranging a single layer on a cooling rack until they're completely cool, or pat dry with kitchen paper.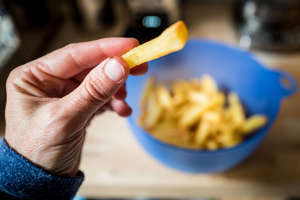 © Getty This is not essential, but this is step helps them crisp them up later!
Once your parboiled chips are ready, add them to your heated pan and gently turn the potatoes in the hot oil so they get evenly coated.
Cook them in the oven for about 30min, turning halfway through. Once they're ready, season as soon as they come out of the oven and serve straight away.
Ta-dah, the perfect fries.
Gallery: Opposites Attract: Weird Food Combos That Actually Work [Gourmandize]