Clodagh McKenna's chicken casserole recipe

Evening Standard
06/02/2019
I am so passionate about making use of every bit of food that I bring into my kitchen.
When I buy a whole chicken, which is about once every two months, it is always an organic or free-range bird. I know there will be people reading this thinking free-range or organic birds are so much more expensive — and you are right — but you can get so much more out of a good quality whole chicken . From a whole chicken you'll get two breasts, two thighs, two drumsticks, plus a carcass and wings for making a delicious chicken stock.
The first thing I do is joint the chicken. Then put the carcass of the chicken and the wings in a saucepan and cover with cold water, add a chopped carrot, celery, onion and herbs. Bring to the boil, then reduce the heat and simmer for at least an hour. From this you will have a delicious chicken broth , which I love by itself or with some noodles, sliced scallions and chilli — yum!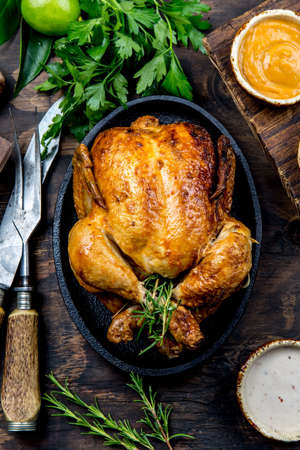 I make a delicious hearty casserole with the pieces of chicken. Now that free-range or organic bird doesn't seem so expensive! If you are near the telly tomorrow I will be cooking up a delicious harissa spatchcock chicken from my new book, Clodagh's Suppers, on ITV's This Morning!
Chicken casserole
Serves: 4
Preparation time: 20 mins
Cooking time: 45 mins
Serve with: a dry white Broglia Gavi di Gavi DOCG, £10.49, from Waitrose
Ingredients
80g salted butter
1 organic chicken, cut into eight pieces
4 garlic cloves, peeled and left whole
8 spring onions
16 cherry tomatoes (left on their vines if possible)
6 carrots, peeled and chopped into two-inch pieces
16 baby potatoes (new potatoes or Jersey royals)
250ml white wine (optional)
2½ cups chicken stock
1 lemon, zest and juice
1 tablespoon honey
1 tablespoon Dijon mustard
1 tablespoon flat-leaf parsley, chopped
4 sprigs of fresh thyme
2 bay leaves
sea salt and freshly ground black pepper
Method
1. Pre-heat the oven to 180C/350F/Gas 4. 
2. Place a casserole dish over a medium heat and add half the butter.
3. Once the butter has melted, sear the chicken pieces skin side down until lightly browned and season with salt and freshly ground black pepper. Remove from the casserole and set aside.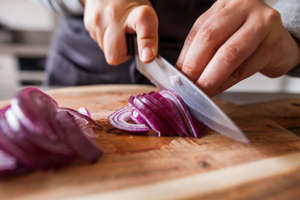 4. Add the rest of the butter and sear the onions, carrots and tomatoes. Then return the chicken to the pot along with the baby potatoes.
5. Pour in the white wine and simmer for five minutes, allowing the alcohol to evaporate.
6. Whisk together the chicken stock, lemon zest and juice, mustard and honey. Pour into the casserole. Slice up the leftover lemon and add to the dish.
7. Add the herbs. Stir and cover.
8. Cook in the pre-heated oven for 45 minutes. 
Gallery: Chicken and rice dishes, perfect for week days [Popsugar]