How to make baharat chicken, figs and pistachio buckwheat

The Independent
06/12/2018
© Provided by Independent Digital News & Media Limited A special message from MSN: 

While Christmas is a time of joy for most of us, that's not the case for the UK's most vulnerable children and young people. We've partnered with giving platform Benevity to raise funds for two charities - the NSPCC and The Children's Society – to try to help change that. You can help make a difference - please donate now.
Baharat chicken, figs and pistachio buckwheat
Figs add a burst of sweetness to the warming blend of Baharat spices and provide a wealth of minerals including potassium for maintaining a healthy cardiovascular system.
120g cherry tomatoes
1 tbsp baharat spice
1 tbsp balsamic vinegar
20g pistachios
2 figs
2x170g free-range chicken breast
4 tsp oil
80g buckwheat
80g green beans
Medium handful of flat-leaf parsley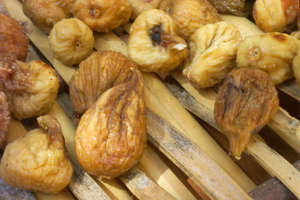 © Getty Figs, Cilento, Campania, Italy. (Photo by: Alfio Giannotti/REDA&CO/UIG via Getty Images) Preheat the oven to 200C/gas mark 6 and boil a kettle.
In a bowl, mix together the baharat spice and 1 tbsp of oil. Place the chicken in the bowl and coat in the spice. Place the chicken on a baking tray and put in the oven for 20-25 minutes, until cooked through. Meanwhile, rinse the buckwheat and place in a saucepan with 300ml of boiling water and a pinch of sea salt. Simmer for 15 minutes.
Trim the green beans. Cut the figs into quarters. Cut the cherry tomatoes in half and roughly chop the parsley. Roughly chop the pistachios. On a separate baking tray to the chicken, place the green beans and figs and drizzle with 1 tsp of oil. Place in the oven for the last 10 minutes of the chicken cooking time.
Drain the buckwheat and stir in the cherry tomatoes, the parsley, balsamic vinegar and half of the chopped pistachios. Season with black pepper. Spoon the tomato and parsley buckwheat onto two warm plates, top with the baharat spiced chicken and sprinkle over the remaining chopped pistachios. Serve alongside the green beans and roasted figs.
Recipe from Mindfulchef.com
Gallery: Eggs beyond breakfast: 30 ways to make them the star of the show [Lovefood]