How to make Caribbean chicken and charred corn salsa

The Independent
10/07/2018
© Provided by Independent Digital News & Media Limited With spiced jerk chicken, heritage tomatoes add colour while crisp gem lettuce gives this dish a bit of crunch
Caribbean chicken and charred corn salsa
120g heritage cherry tomatoes
120g sweetcorn
1 avocado
1 gem lettuce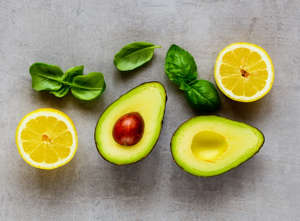 © Provided by Shutterstock Flat lay of avocado, lemon and basil 1 lime
1 tbsp jerk seasoning
1 tbsp oil
2 spring onions
2 x 170g free-range chicken breast
60g radishes
Medium handful of fresh coriander
Related: 10 Nutritious (and Tasty) Healthy Snacks (provided by Real Simple)
Place the chicken breasts in a bowl with two-thirds of the jerk seasoning, a pinch of sea salt and half a tablespoon of oil and mix well. Heat a griddle pan (or frying pan) on a medium-high heat and cook the chicken breasts for 8-10 mins each side or until cooked through and the juices run clear. In the last 5 minutes of the chicken cooking, drain the sweetcorn and add to the pan and cook until turning golden and chargrilled.
Meanwhile, thinly slice the spring onions, removing the root ends and roughly chop the coriander. Slice the cherry tomatoes in half and finely slice the radishes. Peel and de-stone the avocado and thinly slice.
To make the sweetcorn salsa, place the chargrilled sweetcorn in a bowl with the spring onions, coriander, the juice from the lime, remaining jerk seasoning and half a tablespoon of oil. Season with sea salt and black pepper.
Roughly chop the gem lettuce, removing the root end and place in a bowl with the heritage tomatoes, avocado, radishes and half of the sweetcorn salsa. Toss gently and spoon out onto two plates.
Thinly slice the chicken breasts and place over the salad and spoon over the remaining sweetcorn salsa.
Recipe from Mindfulchef.co.uk
Related: 21 Healthy Ways to Put Your Slow Cooker to Work Every Day This Summer (provided by POPSUGAR)