How to make pan roasted duck with braised cabbage

The Independent
10/09/2019
Pan roasted duck with braised cabbage
For the braised red cabbage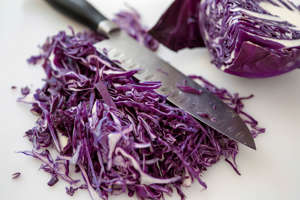 © Getty Shredded red cabbage on a white cutting board.
2 shallots
½ red cabbage (about 200g)
Olive oil
1 cinnamon stick
¾ cloves
A grating of fresh nutmeg
100g vegetable stock
For the duck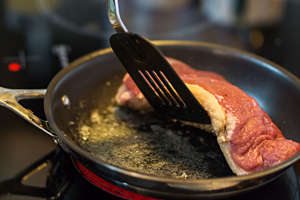 © Getty Fried duck breast
4 duck breasts
Sea salt and pepper
For the strawberry red wine sauce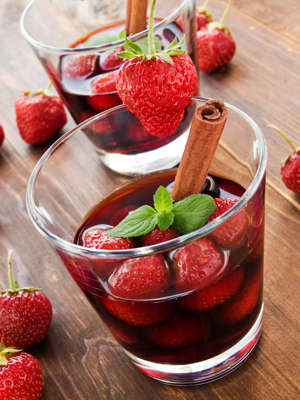 1 shallot
400ml red wine
100ml port
200ml chicken stock
100g hulled and halved strawberries
Firstly prepare the braised cabbage – this can be done ahead of time and reheated if needed. Finely dice the shallots and finely shred the cabbage. Pan fry the shallots in a splash of oil until translucent, then add the cabbage and cook for a few more minutes. Add the spices and stock, and then cover with a lid and braise for about 40 minutes on low heat. Stir now and again and season at the end.
Next, preheat the oven to 180°C/350°F/Gas 4. Finely score the skin on the duck breasts with the tip of a sharp knife and season generously with salt and pepper.
Heat an ovenproof frying pan over a low heat and lay the duck breasts, skin-side down, in the pan. Slowly cook the duck for 10–15 minutes, draining off the fat as you go, until the skin starts to turn crispy. Turn up the heat to brown the skin until crispy all over, then flip over the breasts and cook for a further two minutes. Transfer to the oven for three minutes, or until the duck breasts are firm to the touch but still quite pink inside. Remove from the oven, cover with foil and leave to rest for 10 minutes.
Gallery: Insanely easy canned chicken recipes, from enchiladas to flautas(Delish)
Drain the fat from the frying pan and in the same pan, add one shallot finely diced. Sweat for about five minutes, being careful not to burn. Add the red wine and port and reduce for eight minutes. Next, add the stock and the strawberries. Cook for about 10 minutes. Check seasoning.
To serve simply pile up some cabbage, arrange some sliced duck on top and finish with a good spoonful of the sauce.
MSN UK is committed to Empowering the Planet and taking urgent action to protect our environment. We're supporting Friends of the Earth to help solve the climate crisis, please give generously here or find out more about our campaign here.