How to make satay skewers with a walnut sauce

The Independent
19/11/2018
Satay sauce with steak strips
Time: 40 mins
Serves 4 (as a starter)
For the steak marinade
1 tbsp grated ginger
1 garlic clove, minced
2 tbsp soy sauce
½ tsp chilli powder
Juice of 1 lime
2 tbsp soft brown sugar
1 tbsp fish sauce
500g sirloin steak, cut into thin strips
Download the Microsoft News app for your Android or iPhone device and get news & live updates on the go. 
Watch: Food Recipes: Swedish Meatballs [Cover Video]
For the satay sauce
100g walnuts
50ml walnut oil
20ml water
1 heaped tbsp red curry paste
2 tsp grated ginger
1 tsp groundnut oil
150ml coconut milk
2 tbsp soy sauce
1 tsp brown sugar
Juice of half a lime
You'll also need
Around 12 metal (or soaked bamboo) skewers
1 red chilli, deseeded and finely sliced
Handful of coriander, roughly chopped
Handful of California walnuts, toasted and roughly chopped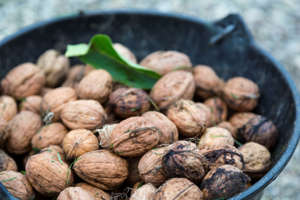 © Getty Walnuts from Burgundy. (Photo by: Jumping Rocks/UIG via Getty Images) Mix together the steak marinade ingredients and coat the steak strips, leaving to marinate for 30 minutes. Meanwhile, to make the satay sauce place the California, walnut oil and water into a food processor and blitz until you have a smooth walnut paste, then leave aside.
Place the red curry paste, ginger and groundnut oil into a medium-sized saucepan and saute for 1-2 minutes over a medium heat. Whisk in the coconut milk, soy sauce, brown sugar, lime juice and walnut paste and reduce to the lowest heat setting, allowing to simmer. Stir occasionally to ensure a smooth consistency – the sauce should thicken as it is heated.
Thread the steak onto the skewers. Preheat a large griddle pan over a medium to high heat and cook the skewers for 1-2 minutes, brushing them with excess marinade as you go. Plate the skewers alongside the walnut satay sauce (also drizzling some on top) and top with the red chilli, coriander and toasted walnuts to serve.
Recipe from California walnuts (californiawalnuts.uk)
Gallery: 4 Steps To The Perfect Spaghetti Bolognese [Gourmadize]