London chefs reveal their best no cook summer dishes

Evening Standard
12/07/2018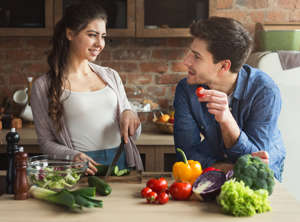 © Provided by Shutterstock Couple cooking food in their kitchen. Can't stand the heat? Don't get out of the kitchen just yet.
This is the season of the no-cook dish: quick to prepare and easy to stomach in sweltering midsummer.
"There is literally no way to stay completely cool in my kitchen," says Australian Brett Redman, head chef of new Russell Square extra-hot-spot Neptune. "You roll up your trousers, drink lots of water and get ready to sweat." But you can take the edge off.
Here are the best ways to beat the heat in the kitchen this summer, courtesy of London's hottest chefs.
Brett Redman's scallop carpaccio
© Provided by Evening Standard Limited Thinly slice four large scallops, then blend seaweed and dulse oil (made from seaweed, it's a good source of iodine) together on high for five minutes and strain. 
To make the ajo blanco, pour 250ml boiling water over 50g almonds and 50g hazelnuts and allow to cool. Once cool, blend with 5ml sherry vinegar, 150ml olive oil, and 2g salt until smooth.

To dress the plate, place the thinly sliced scallops around the edge, spoon the ajo blanco between the slices, then top with torn pieces of toasted nori seaweed sheets and drizzle with dulse oil.
Melissa Hemsley's salad fixes
"When it's hot you want big, satisfying, moreish, crunchy salads," says Melissa Hemsley, author of Eat Happy.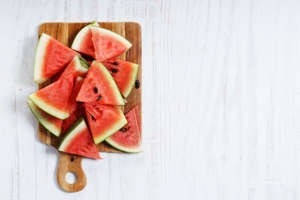 © Provided by Shutterstock Watermelon cut into wedges "My favourite features big wedges of cold watermelon, hunks of feta, tomatoes, fresh mint leaves and olive tapenade dressing. I grill wedges of avocado on the barbecue, but it tastes just as good with avocado just scooped out and squeezed with lime."
Fish, she says, are your friends for five-minute salads. "Get your omegas in. Load up on hot smoked salmon, smoked trout or mackerel, which is cheaper. Get a big bowl and toss one drained tin of chickpeas or cannelini beans with two big handfuls of salad leaves and a palmful of any nuts or seeds — my faves at the moment are pumpkin seeds and almonds."
Alex Jackson's mozzarella, nectarine, oregano and ham plate
"Ovens are to be avoided at all costs during a heat wave", says Sardine chef Jackson. "My flat in particular is a little hot box and the use of the oven pushes it into sauna territory. You'll have to forgo the traditional roast I'm afraid: make this mozzarella salad instead."
Related: 17 Peach Desserts to Make Before It's Too Late (provided by Food & Wine)
Nectarines or peaches are delicious with ham, obviously. "But they're also great with milky fresh mozzarella or ricotta. A little touch of lemon juice brightens things up a bit, the oregano (or basil) keeps it fresh and aromatic, and a little drizzle of olive oil will tie it all together."
George Barson's tomato, goats' curd and lovage
Combining simple ingredients that dovetail means you get maximum flavour with minimum effort, according to George Barson's rulebook. "This is a great dish as tomatoes are at their best right now and it's light but still packs a punch", says the Cora Pearl chef. Barson indulges the oven in the heat, but only if he's well clear of it.
"I would put something to cook overnight as all the work is done when you're asleep and not in the kitchen," he adds. 
Mallika Basu's Indian bean salad
© Provided by Evening Standard Limited "I'd recommend a quick-fix Indian mixed bean salad," says Mallika Basu, author of Masala: Indian Cooking for Modern Living. You can customise it to your heart's content by adding salad leaves, shredded grilled meats and anything else you fancy.
How spicy you go is up to you: "Add chillies to your own tolerance levels — Indians enjoy these and yoghurt to stay cool in the heat." 
Ravinder Bhogal's store cupboard rummage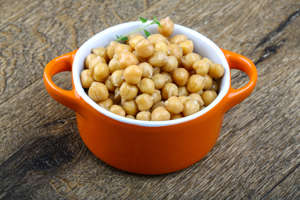 © Provided by Shutterstock Canned chickpeas "Who wants to simmer when it's already boiling? asks Rhavinder Bhogal, founder of Jikoni in Marylebone.
"Hit your store cupboard. Drain a tin of chickpeas and a can of tuna in oil. Mix together, add olives and some juicy cherry tomatoes. Mix a teaspoon of harissa paste, 50ml olive oil, the juice of one lemon, one chopped preserved lemon and half a teaspoon of cracked cumin. Pour over the salad. No sweat."
Fred Peneau's gazpacho
The head chef at Serge et Le Phoque next to The Mandrake Hotel goes for gazpacho. It can be made with almost any fruit — melon, apricot, strawberry. "If you are feeling sexy you can throw a cockle in, or shellfish," says Peneau. 
Ollie Pollard's raw sea bass
© Provided by Evening Standard Limited (Simon Burrell) The chef at The Jones Family Kitchen in Belgravia has a winning raw Cornish sea bass, orange and grapefruit, crisp fennel and dill. "This dish is great for a hot day because it's got a hit of fresh citrus, sweet grapefruit and awesome extra-virgin olive oil and raw fennel."
He also serves a Garden Summer Plate — raw vegetables, pea and yoghurt mousse, watercress and pumpkin seeds, served with a sharp tarragon and parsley vinaigrette. Sizzling stuff.
Related: These Two Words May Help You Decide What to Order at a Restaurant (provided by Buzz60)