The One Thing You Should Never Do When Making Chicken Spaghetti

Southern Living
10/07/2018
Green Bean Casserole
, or even a regional favorite like King Ranch Chicken Casserole. But it's unquestionably a classic of its own. Made with shredded chicken, chopped tomatoes, a cheesy, creamy sauce, pasta, and a touch of hot sauce, it is incredibly easy to make and incredibly comforting to eat.
© Hector Sanchez Unlike other pasta-based casseroles, like lasagna or baked ziti, Chicken Spaghetti is a little more unexpected because it calls for long, thin noodles, not short, tubular ones. The noodles are cooked before they go into a 9- by 13-inch casserole dish with the other ingredients, and there's a simple yet important step that many recipes do not include: you need to break the uncooked spaghetti noodles into thirds before cooking them in chicken broth.
Breaking the noodles makes the casserole easier to serve and eat. Whole strands of spaghetti are harder to eat in a casserole, even when you slice it into squares.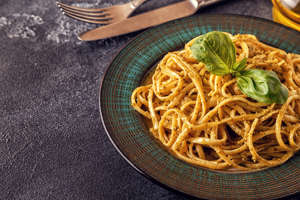 © Provided by Getty Another pasta tip: cook the spaghetti in chicken broth. While you can certainly use rotisserie chicken in this casserole, our recipe calls for a whole chicken to be cooked in a stockpot of water. Once the chicken is cooked, you're left with a pot of tasty broth that serves two purposes. A portion of it is reserved to make the sauce for the casserole, and the rest is used to boil the spaghetti.
While it's nearly impossible to screw up Chicken Spaghetti, these small steps will make it so much better. Really, the only mistake is to not make it at all.