Turkey and apple burger recipe

Evening Standard Homes & Property
6 days ago
SERVES 4
Ingredients
350g minced turkey
small bunch of thyme, leaves removed and finely chopped
2 sweet, juicy eating apples, such as Cox's, peeled, cored and finely chopped
½ teaspoon chilli flakes
salt and freshly ground black pepper
1 egg, beaten
a little plain flour, for dusting
1 tablespoon vegetable oil
1 onion, sliced
To serve
butter, for spreading
4 brioche or burger buns, halved
1 little gem lettuce
2 ripe vine tomatoes, sliced
burger sauces or chutneys
Method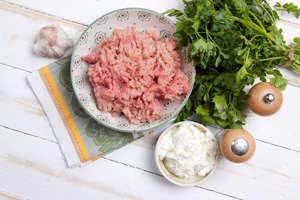 © Getty
1. Mix the turkey, thyme and apple in a bowl, stir in the chilli flakes and season with salt and pepper. Add the egg and mix everything well to combine.
2. Wet your hands a little to stop the turkey and apple mixture from sticking to them, then take a quarter of the mixture and mould it into a patty in your hands. Repeat to make 4 burgers in total.
3. Dust a little flour on each side of the burgers, then pop them in the refrigerator to chill and firm up for 30 minutes before cooking.
4. Heat the oil over a medium heat in a large frying pan. Fry the burgers for 3–5 minutes on each side until cooked through and golden and crispy on the outside. Remove from the pan and leave to rest on a plate lined with paper towels.
5. While the burgers are resting, fry the onion over a medium heat in the frying pan until caramelised and cooked through. You might need a touch more oil.
6. Finally, assemble your burgers by buttering your brioche buns, adding the burgers, lettuce leaves, tomato slices, onion and your favourite burger sauces and chutneys.
Gallery: When fast food doesn't live up the adverts (LoveFood)
Apple by James Rich (Hardie Grant £20) Photography ©Jacqui Melville
Explore the issues faced by the UK's most vulnerable children and young people this summer and discover what you can do to help.