What to Cook: What to Cook This Week

The New York Times
10/02/2019
Good morning. We're coming up on Valentine's Day and of course we have recipes for that night, and for some heartwarming cocktails to go along with it, at least if you're not heading out to a restaurant for too-sweet Champagne and too many chocolates after the oysters and filet mignon. I'll pass, cook my Valentines some pasta with scallops, burst cherry tomatoes and lots of herbs, spoon out ice cream for dessert and recite Shakespeare:
Love alters not with his brief hours and weeks,
But bears it out even to the edge of doom.
If this be error and upon me prov'd,
I never writ, nor no man ever lov'd.
I'll say that, and go walk the dog. Or not! It may come to delivery pizza and frozen fruit bars from the deli. The course of family life never did run smooth.
Today, I think, would anyway be a good one to make some galbijjim. Start cooking right now, at day's start or middle, and it'll have cured into perfection for dinner. If you add rice cakes at the end, you can serve it as a one-pot meal.
For Monday night, a fine new recipe for pasta with brown butter and cheese.
Then on Tuesday, chicken skewers with peanut sauce, made under the broiler, with rice and lots of extra limes.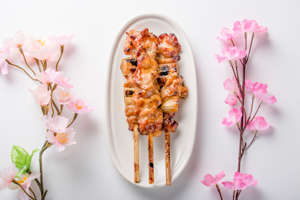 Japanese Yakitori Chicken Wednesday evening, that terrible night, caught between the start of the week and its end, when everyone's cranky? I like this one-pan pasta with harissa Bolognese. Alternatively, Melissa Clark's brilliant recipe for pasta with parsnips and bacon (above). Make it with carrots if you don't have parsnips, or with butternut squash. Swap out the bacon for Italian sausage, or ground beef or pork. It's forgiving, just as we all ought to be in the middle of the week.
Thursday we have talked about. Won't you be mine?
And then on Friday, to get everyone excited for the weekend: taco night. So, tacos de carnitas. Black bean tacos with poblanos. Or stop off at the deli on the way home, get some pastrami. These Irish tacos are prime.
Visit NYT Cooking to discover many more delicious things to cook and eat this week. You will, yes, need to take out a subscription to access them. Your subscription supports our work and allows us to continue to find you the very best recipes on Earth. If you'd like, though, you can also find inspiration on the cheap on our Instagram, Facebook and Twitter feeds. And if you run into trouble with anything along the way to dinnertime, you can write to us for help: cookingcare@nytimes.com. We'll get back to you. (As for myself, I'm foodeditor@nytimes.com)
Now, it's nothing to do with scalding your milk, but life in food is about a lot more than flavors and instruction. I think you could, for instance, spend a wonderful mealtime talking about Elizabeth McCracken's new novel "Bowlaway," which Dwight Garner reviewed for The Times. (It'd be a fun book to read while eating spicy popcorn and drinking a beer, I reckon.)
Are you in or around Los Angeles? There's a cool evening planned for the 14th at Lacma, celebrating the work of the artist Greer Lankton. If you're elsewhere, you can learn more about Lankton's art here.
I loved this conversation between Marlon James and Victor LaValle, in Vulture.
Finally, it was on this day in 1940 that Tom and Jerry made their screen debut. Here's "Puss Gets the Boot." See you tomorrow.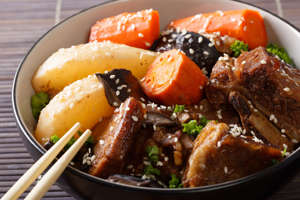 Spicy ribs stewed with mushrooms, pears and carrots close-up in a bowl. horizontal. Korean style Recipe: Han Oak Galbijjim
This is a home cook's take on the short-rib stew the chef Peter Cho serves at Han Oak, the beautiful homestyle Korean restaurant in Portland, Ore., that he runs with his wife, Sun Young Park. It is fragrant and sweet, with deep caramelized flavors that come in part from roasting the meat and vegetables separately before combining them in the braising liquid. Cho fries rice cakes before adding them to the stew, but you can just slide them in plain, if you prefer. Either way, the addition of greens at the end gives the dish an exciting brightness, a zip that many galbijjims lack.
3 pounds mixed root vegetables, such as carrots, parsnips, onions and sweet potatoes, peeled and cut into 1-inch pieces
5 tablespoons neutral oil, like canola or vegetable oil
Kosher salt
Freshly ground black pepper, to taste
4 pounds bone-in short ribs, cut by a butcher into 2-inch pieces
2 medium-size Asian pears, peeled, cored and diced
1 large red onion, peeled and diced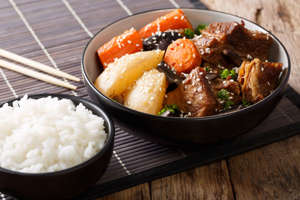 Galbi jjim or Kalbi Jim - Korean Braised Beef Short Ribs with rice closeup. horizontal 12 cloves garlic, peeled and roughly chopped
2 tablespoons roughly chopped ginger
3 cups chicken stock
1 12-ounce can Coca-Cola
1/4 cup honey
1/2 cup soy sauce
1/4 cup rice-wine vinegar
2 tablespoons gochugaru (Korean chile flakes), or to taste
4 cups roughly chopped kale, optional
1 pound Korean rice cakes, optional
1 tablespoon toasted sesame oil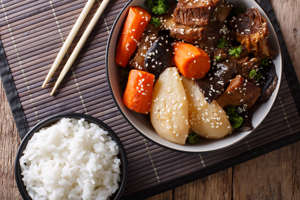 Galbi jjim Korean Braised Beef Short Ribs with rice close-up on the table. Horizontal top view from above 3 scallions, trimmed and both white and green parts thinly sliced
3 radishes, trimmed and thinly sliced
Sesame seeds, to taste
1. Heat oven to 425. Toss the root vegetables in a large bowl with 2 tablespoons of oil, and season with an aggressive amount of salt and pepper. Turn the vegetables onto a sheet pan. Put the short ribs in the same bowl, and toss with 1 tablespoon of oil and a lot of salt and pepper, then put the ribs on another sheet pan, bone sides down. Place both pans in the oven and roast, turning the pans once or twice, until the vegetables are soft and caramelized and the ribs are well browned, approximately 40 minutes. Set the pans aside until ready to use.
2. While the vegetables and ribs cook, place a large Dutch oven over medium-high heat, and swirl into it the remaining 2 tablespoons of oil. When it shimmers, add the pears, onion, garlic and ginger and cook, stirring occasionally, until they are softened and browning, approximately 15 minutes.
3. Turn heat to high, add the stock, Coca-Cola, honey, soy sauce, rice-wine vinegar and gochugaru, and bring the mixture to a lively simmer. Cook until pears are tender, approximately 20 minutes. Transfer to a blender or food processor, and purée the sauce until smooth, then return it to the pot.
4. Add the cooked short ribs and whatever fat has rendered from them to the pot, cover it and cook over medium-low heat for approximately 90 minutes, or until very tender.
5. When the meat can be flaked from the bone, add the roasted vegetables to the pot, along with the rice cakes. Cook until the vegetables are hot and the rice cakes (if using) are sticky, then add the greens, and stir them around until they have just started to turn tender.
6. Drizzle with the sesame oil, top with the scallions, radishes and sesame seeds to taste. Serve immediately.
Yield: 6 servings
Adapted from Peter Cho, Han Oak, Portland, Ore.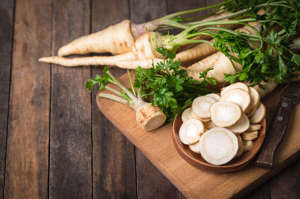 Fresh parsley root on the wooden table Recipe: Pasta With Parsnips and Bacon 
They may seem like an unlikely duo, but pasta and parsnips work really well together, with the parsnips becoming almost like a sweet and soft extension of the pasta. And they're another vehicle for the creamy, bacon-rich sauce. You can roast the parsnips several hours ahead (they'll be fine at room temperature). But the rest of the dish is best made just before serving. Then serve it hot. There are few dishes that are cozier on a cold winter night.
3 medium parsnips (3/4 pound), peeled and cut into 1/2-inch pieces
1 1/2 tablespoons extra-virgin olive oil, more for drizzling
Kosher salt and black pepper, as needed
1/2 pound dried campanelle or farfalle pasta
1/4 pound bacon, diced
1 medium leek, thinly sliced
3/4 cup heavy cream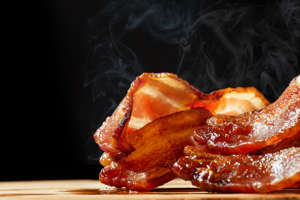 Closeup of slices of crispy hot freshly cooked bacon with copy space in black background 2/3 cup grated Parmesan cheese
2 tablespoons chopped parsley
1. Heat oven to 400 degrees. Toss parsnips with oil and season with salt and pepper. Roast, tossing occasionally, until parsnips are golden and tender, about 25 minutes.
2. Meanwhile, bring a large pot of salted water to a boil. Cook pasta according to package instructions until 1 minute before it's al dente. Drain.
3. In a large skillet over medium-high heat, brown the bacon until crisp, about 5 minutes; use a slotted spoon to transfer bacon to a paper-towel-lined plate to drain. Discard all but 1 tablespoon of fat from the pan.
4. Return skillet to heat and add leeks. Cook in remaining bacon fat until softened, about 5 minutes. Stir in heavy cream and cooked bacon. Simmer mixture until slightly thickened, 2 to 3 minutes.
5. Stir in pasta, parsnips and cheese. Simmer until heated through and cheese is melted, then remove from heat. Season with salt and pepper; toss with parsley. Serve drizzled with olive oil, with plenty of black pepper on top.
Yield: 2 servings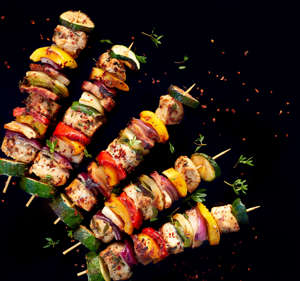 Grilled skewers of meat and vegetables on a dark background Recipe: Chicken Skewers With Peanut Sauce
That peanut butter is relegated to the sandwich while sesame butter (tahini) is seen as an exotic food item is one of the wonderfully preposterous anomalies of American cooking. In the rest of the world, especially Asia, peanuts are special, used not only as a garnish but as a main ingredient in sauces. One such sauce incorporates coconut milk and classic Thai seasonings: curry paste or powder, nam pla, lime and cilantro. The coconut milk and peanuts make the mixture too powerful-tasting for most fish and too heavy for most meat. It is perfect, however, when teamed with chicken on the grill, especially boneless thighs.
1/2 cup natural peanut butter, preferably chunky
1 tablespoon curry paste or curry powder, or to taste
1/2 teaspoon salt
3/4 cup fresh or canned coconut milk, approximately
1 tablespoon nam pla or soy sauce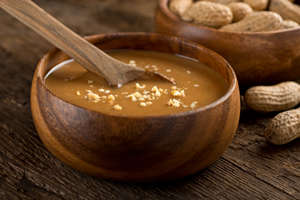 A bowl of delicious homemade thai peanut sauce. 1 tablespoon lime juice
1 1/2 to 2 pounds boneless chicken thighs, cut into large chunks
Chopped fresh cilantro leaves for garnish
Lime wedges
1. Start charcoal or gas grill or heat broiler; fire should be moderately hot, and rack should be at least 4 inches from heat. If using wood skewers, soak them in water.
2. Put peanut butter in a small saucepan over medium heat; add curry paste or powder, salt and enough coconut milk to achieve a creamy but quite thick consistency. Cook over low heat, whisking, until smooth; do not boil. Cool a bit, then stir in nam pla and lime juice.
3. Marinate chicken in this mixture for 5 minutes to an hour. Skewer chicken chunks, then grill or broil slowly, until nicely browned and cooked through, 10 minutes or longer. Serve hot, garnished with cilantro and accompanied by lime.
Yield: 4 servings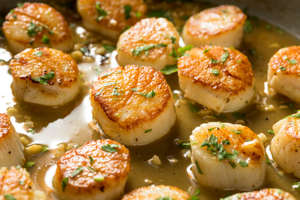 Recipe: Seared Scallop Pasta With Burst Tomatoes and Herbs
Although usually designated as a "something special" ingredient, scallops make a perfect weeknight dinner because they cook in minutes. To get a good, crisp sear, be patient (it's hard for us, too) and let the pan get quite hot before adding the scallops. Once you do, leave them alone to ensure a deeply golden crust. Toss them with pasta and candy-colored cherry tomatoes that burst and get coaxed into a jammy sauce. Finish with a showering of fresh, tender herbs and a drizzle of olive oil.
Kosher salt
1 pound linguine fini or other long, thin pasta
1 pound large sea scallops, patted dry
Black pepper
4 tablespoons olive oil, plus more for drizzling
2 shallots, thinly sliced into rings
1 1/4 pounds Sun Gold, cherry or grape tomatoes
2 garlic cloves, thinly sliced
Pinch of red-pepper flakes (optional)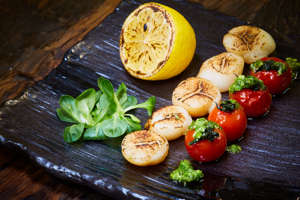 Fried scallops with tomatoes on a black plate. Shallow dof 1 1/2 cups roughly chopped mixed herbs, such as tarragon, mint, parsley and chives, plus more for serving
1. Bring a large pot of well-salted water (2 heaping tablespoons kosher salt to about 7 quarts water) to a boil. Add the pasta and cook according to package instructions until al dente. Reserve 1 1/2 cups pasta cooking water, then drain pasta.
2. Season the scallops well on both sides with salt and pepper. Heat a 12-inch skillet over high until very hot, 2 to 3 minutes. Add 2 tablespoons olive oil. When it shimmers, add the scallops (working in batches to avoid crowding the pan, if necessary) and cook until golden brown and crisp, flipping once, 1 to 2 minutes per side. Transfer to a plate and cover to keep warm while you make the sauce.
3. Wipe out the skillet and heat the remaining 2 tablespoons olive oil over medium. Add the shallots and cook until they begin to soften, 2 to 3 minutes. Add the tomatoes and cook, stirring occasionally, until they start to burst, 5 to 7 minutes. Add about 1/3 cup reserved pasta water and press the tomatoes gently with the back of a spatula or wooden spoon to get them nice and jammy. Stir in the garlic and red-pepper flakes, if using, and cook, allowing the sauce to simmer, 1 to 2 minutes. Season with salt and pepper.
4. Add the pasta, 1 1/2 cups herbs and 1/4 cup reserved pasta water and toss to coat, adding additional pasta water if needed. Divide the pasta among shallow bowls and top with scallops. Garnish with additional herbs and a drizzle of olive oil, if desired.
Yield: 4 to 6 servings
Recipe: Irish Tacos
You can certainly eat corned beef with boiled cabbage and carrots, but it can be a great deal more exciting to pile the shredded meat — ruddy pink, salty, fatty and meltingly sweet — into warm flour tortillas, then top it with a bright, crunchy, slightly fiery cabbage slaw. The contrast between the soft and the crisp, the salt and the sweet, is fantastic — particularly if you adorn each taco with a few pickled jalapeños and, perhaps, an additional swipe of mayonnaise. It's not fusion cooking, nor appropriation. It's just the fact that everything tastes good on a warm tortilla.
2 to 2 1/2 pounds corned beef (see recipe)
1 small head of green cabbage, cored and thinly sliced
3 carrots, peeled and sliced into julienne
1 cup mayonnaise
3 tablespoons plain Greek yogurt or sour cream
3 tablespoons cider vinegar
Kosher salt and ground black pepper, to taste
1 1/2 tablespoons hot pepper sauce, or to taste
12 to 16 flour tortillas, warmed
Sliced fresh or pickled jalapeños
1. Warm the corned beef in its cooking liquid, or wrap it in foil and set on a sheet pan in a 350-degree oven for 20 minutes or so.
2. Make the coleslaw: Mix cabbage and carrots together in a large bowl.
3. In a separate bowl, whisk together mayonnaise, yogurt or sour cream, cider vinegar, salt, pepper and hot pepper sauce to taste.
4. Pour half the sauce over the cabbage and carrots and toss to coat thoroughly. Season to taste. Reserve remaining sauce.
5. When the corned beef is hot, remove from liquid or foil and use two forks to shred it. Serve with the warmed tortillas, sliced jalapeños, the slaw, remaining white sauce and some hot pepper sauce.
Yield: 6 to 8 servings
Opposites Attract: Weird Food Combos That Actually Work